Lahore: Zameen.com and Al-Hayat Residencia have announced their decision to organise a Family Property Gala this weekend (January 9 and 10) at the project site on Safari Road, Off Raiwind Road, Lahore, from 10 AM to 7 PM.
Read: 75% development completed in Lyallpur Commercial Market
The event promises to be packed with both the best of investment opportunities and a host of fun-filled activities. The adults will be able to discuss the various investments options available in Al-Hayat Residencia through one-on-one meetings with representatives of both Zameen.com and Al Hayat Residencia.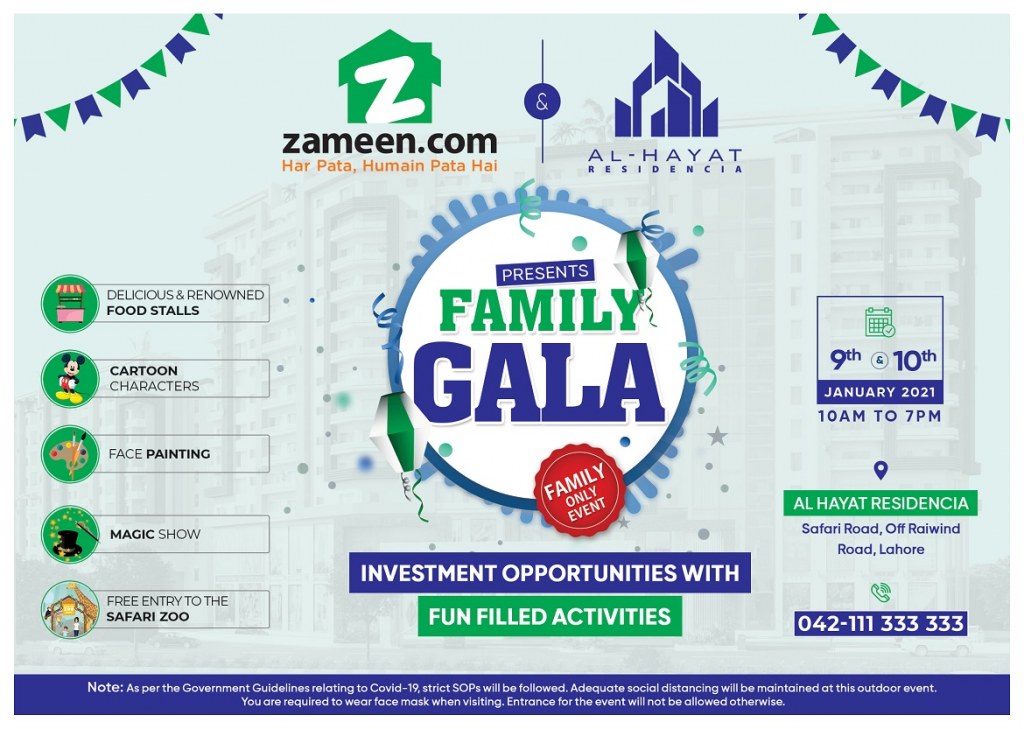 Moreover, the gala will feature several fun activities for kids, including face painting, magic show, cartoon characters, food stalls, and free entry to Safari Zoo. To top it all off, a scrumptious, free high-tea arrangement will be provided to the attendees to keep them active throughout the day.
Read: 25% inventory in Forrest-Nathia Gali sold within a month
Al-Hayat Residencia is currently offering a limited number of 1-bed, 2-bed, and 3-bed apartment units on convenient payment. The project has seen 40-50% capital gains in the past 3 years and more than 50% gains are expected over the next 2 years
Project Highlights:
Located near Lahore Safari Zoo
2-minute drive from Lahore Ring Road
E-access to apartments
24/7 security & maintenance
Round-the-clock backup
Spacious parking
How to book a unit in Al-Hayat Residencia?
You can visit the Family Property Gala on January 9 & 10, between 10 AM and 7 PM. However, if you are looking for more information, you can also reach out to us at our 24/7 helpline on the following numbers:
PAK: +92-42-111-333-333
UAE: +971-4-4378010
Related News