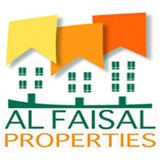 Agency Staff
Dr.Shahid Mehmood (CEO)
Kashif Kayani
Dr Shahid
About Al-Faisal Properties
We have been established since 1989. Our main office is located in Rawalpindi, however we also operate from Islamabad.Al Faisal Properties sums up their approach to real estate with two simple words Caring Counts. Instead of measuring success by sales, Al Faisal emphasizes on the satisfaction of his clients and the relationships.Al Faisal focuses on relationships and makes effective communication. We cultivate trust and choice with our clients along with honesty and loyalty. We Know Good communications is the cornerstone of any successful relationship.Always choose a real estate agent who has the tools, skills and experience to make your real estate transaction straightforward is something we enjoy doing.Let us simplify the whole process for you. If you're looking to buy or sell a home, land, or invest in property in IslamabadRawalpindi, Al Faisal invites you to meet with us to discuss your real estate needs. To build a trusting relationship that exceeds your expectations and that helps you to a successful transaction.Together we can work within your budget to find the home of your dreams.What we offer sellersMake sure your property earns a worthy priceThrough our real estate network, we offer maximum exposure to your propertyNegotiate offers to get the best priceFollow up with lenders, inspectors, buyer's agent to be sure that the transaction is proceeding accordinglyManage and simplify the deal to make the transaction as effortless as possible for youWe believe in Do not cut down the tree that gives you shadeRemember Caring Counts.
Salaam Everybody, We believe that successful relations are always backed by good communication. That�s why we always focus on building long term relations with the clients. Thank you.
Get in touch today!
Send a message and get in touch today!
Recent Properties By Al-Faisal Properties