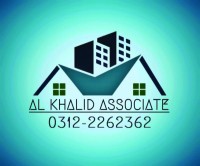 Agency Staff
Akbar Khan (CEO)
About AL Khalid Associate
No matter what stage of the home journey you may be in, we are here to empower you by making all things home simple, efficient, and enjoyable. For years, Thousand of home shoppers have turned to us to find their dream home. AL KHALID ASSOCIATE offers a comprehensive list of forsale properties, as well as the information and tools to make informed real estate decisions. Today, more than ever, AL KHALID ASSOCIATE is The Home of Home Search. Whether you are a buyer or a seller of the property, a tenant or a landlord, we are here to listen. Our tag line is You are the most important part of Us and that is what we believe. Our agency service is rich in integrity and commonsense, high in results and proven client satisfaction. All our staff lives locally and we know Karachi and all the surrounding suburbs like the back of our hands. Buying Selling Renting Investing If you have any real estate inquiries, we are here to help and you will experience the difference. Real estate isn't an easy job. No weekends, late nights, early mornings, and vacations, do you even recognize that word The payoff is you get to spend your days helping people make their dreams come true. In today's competitive market, it takes a lot of skill and very little sleep.
Al Khalid Associate Real Estate Builders & Developers. We are dealing in sale, purchase, rent, sale deed, maps approval, lease, NOC, mutation, property documentation, legal advising & all types of Cases. Our further services & specialties are the modern kitchen, woodwork, tile marble, aluminum & glass, ss work, false ceiling, lighting, wallpapers, painting, Interior & architect designing, graphics designing, event planning, cleaning & shifting, fumigation, decoration renovation & construction. We have a complete Home Solution. "LET US GUIDE YOU HOME"
Get in touch today!
Send a message and get in touch today!
Recent Properties By AL Khalid Associate