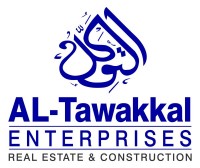 Agency Staff

Salman Javed (CEO)
Sufiyan Bashir

Al Tawakkal Enterprises
Jawwad Ahmed
Faisal Memon
Asif Zaidi
Talha Khan

Hamza Iftekhar

Danish Memon
Masroor Ahmed
Khurram123
M Shahzad Ahmed

Ammad Mushtaq
Malik Abdul Nafay

Hamza Rana
MUHAMMAD IMRAN
About Al Tawakkal Enterprises
Al Tawakkal Enterprises is the pioneering company providing home to millions of people for over 15 years. We take pride in serving our esteemed clientele with flawless construction and real estate services. Our Aim is not just construction a roof for you to live in, its about building an everlasting relationship with you. So, All you need to do is to enlighten us about you requirements and we'll get it done right in time WHAT WE DO, 1. REAL ESTATE Al Tawakkal Enterprises is an allinone real estate company that gives you the best solution whether you want to buy, sell or rent your property. Whether you want your next residence or business office, our competent staff stand ready to be of service to you. 2. CONSTRUCTION Our construction services are what you can count on. From the very first brick to giving you final touch, we are committed to superior quality and always devoted to giving you perfect results. We are striving to be the best in the market that pursue excellence in all kinds of construction services.
Al Tawakkal Enterprises
CEO
Our company harnesses the acumen of its veteran team to come up with smart and far reaching answers to all your property needs. The highly personalized solutions we offer to our clients are top notch and presented after conducting thorough market analysis. Maintaining top level service years in years out is no childs play and it involves an iron will and the ability to prove all that is promised. Alhamdulillah, we of Green Compound Real Estate and Builders have been able to replicate our promises in the form of solid results.
Get in touch today!
Send a message and get in touch today!
Recent Properties By Al Tawakkal Enterprises