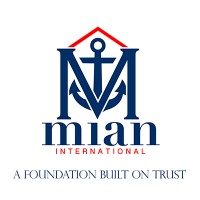 Agency Staff
Mian International (CEO)
Maj R Fahad / Abdul Ahad / Taha Hasan
Mian International (DHA City)
About Mian International
Tired of dubious and incompetent agents and their constant pestering Look no further, Mian International is here to solve all your real estate problems. Our team of educated and seasoned professionals push the envelope and accomplish what few others have in the history of residential real estate sales in Pakistan.Our foundation is built on trust. We believe in empowering our clients with data, inspiration and knowledge around the place they call home. Like most of the realtors in Pakistan, we absolutely avoid pushing fraudulent properties to our customers. Mian International serves the full life cycle of owning and living in any property in Pakistan buying, selling, renting, financing, remodeling and more.Our team is trained to go out of their way to address any client concern prior, during and after the transaction. Working with Mian International is more than working with a professional realtor, it's akin to working with a lifelong friend.Put your worries aside and stop being harassed by uneducated and fraudulent agents. We are there to solve all your realestate problems. Our foundation is built on trust.
Mian International is rated as one of the leading real estate services in this sector. We are delivering top of the line property services to our residential & commercial clients and have outgrown competitors to become a benchmark for other realtors to follow. As the experienced property service providers, we know that maintaining transparency and supreme level of client satisfaction are the basis of success, especially in this business.
Get in touch today!
Send a message and get in touch today!
Recent Properties By Mian International