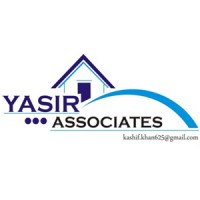 Agency Staff
Kashif Khan & G. Qadir Khan (CEO)
About Yasir Associates
You can benefit from the assistance of a trustworthy and knowledgeable resource. Our sales and rental associates are equipped with the training and expertise to guide you through the process of buying, selling or renting both commercial and residential properties in Karachi.
Kashif Khan & G. Qadir Khan
CEO
Yasir Associates is dedicated to provide exceptional real estate services to our esteemed clients for protecting their investments made from hard earned money and make their decision memorable. Our professional staff effectively utilizes the skills and expertise scientifically.
Get in touch today!
Send a message and get in touch today!
Recent Properties By Yasir Associates