3.34 Crore to 10.25 Crore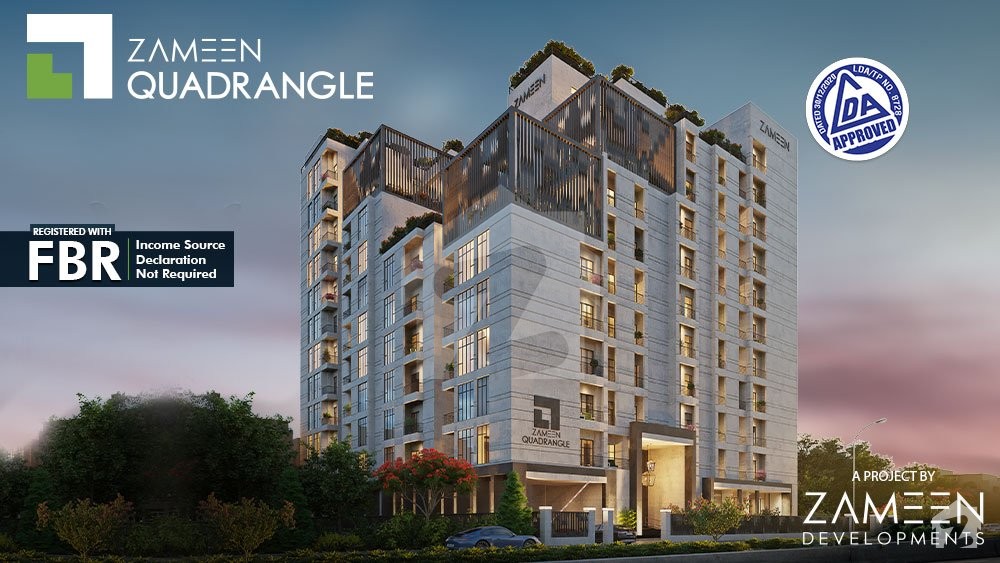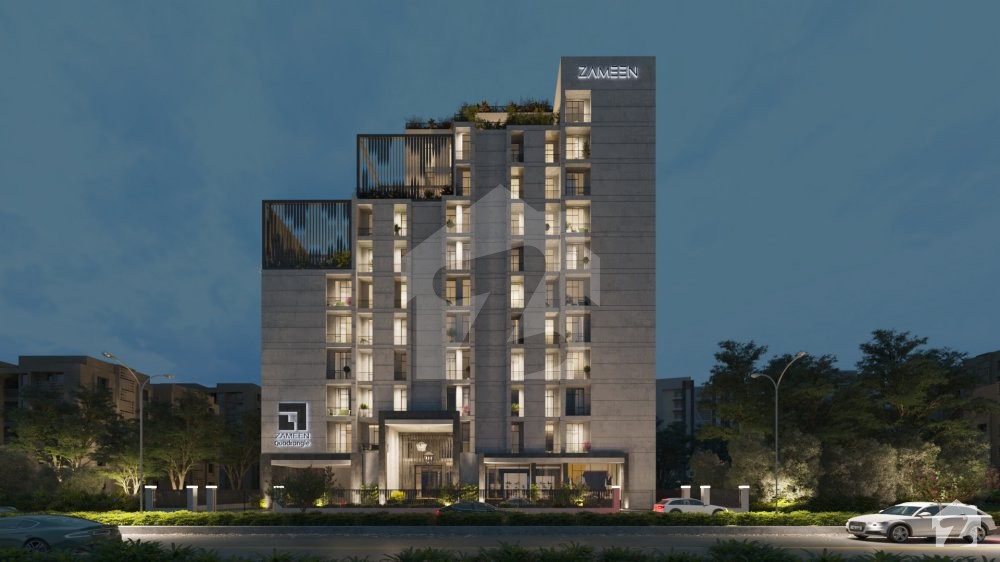 3.34 Crore to 10.25 Crore
3 BEDS FLATS (PENT HOUSE)
Zameen Quadrangle – The New Shape of Your Home
Zameen Quadrangle is the latest residential project by Zameen Developments. Breaking the existing construction trends, the project seeks to redefine contemporary architecture and community living experience. The prime vertical real estate development is designed to provide a new lifestyle to its future dwellers – and comes with abundant luxury and effortless grace.

The Epitome of Minimalistic & Symmetrical Architecture
Zameen Quadrangle's design capitalises on the power of minimalism. The building features geometrical lines and modular floor plans — with a gradually terraced-structure highlighted as it goes higher. Not to mention that an optimised four-sided elevation helps implement simple strategies to offer a comfortable, efficient, and ecologically-aware lifestyle experience to the residents. The building's blocks are designed around a central courtyard 'The Quad' – which seeks to promote healthy lifestyle and social interaction.

Prominent location offering the best of Lahore
Situated in Gulberg, the heart of Lahore, Zameen Quadrangle is strategically placed in a location where residents can enjoy the best of everything the city has to offer. It is easily accessible from major city avenues including Main Boulevard Gulberg, Jail Road, Canal Bank Road, and Mall Road. Just 15-Minutes away from Allama Iqbal International Airport.

What's on offer?
Offering stunning panoramic views of Lahore, Zameen Quadrangle promotes a community-centric lifestyle that's both efficient and indulgent. The project spans over ground-plus 11-storeys with two basements. The structure features a comprehensive inventory that includes 1-bed, 2-bed, and 3-bed apartments, along with exclusive penthouses. Each apartment is designed to offer an individual, scenic view regardless of its orientation.

Provision of world-class facilities
Keeping with the minimalist and tranquil concept, the interiors of the project are modelled after a Scandinavian theme. The designers and architects of Zameen Quadrangle ensured that each block varies in heights, the roof-tops of these terraced structures are linked via dedicated corridors and are reserved for unique activities such as BBQ, open-air theatre, and yoga club.

Central Courtyard

Community Terraces

Double-height Lobby

Swimming Pool

Gymnasium

Spa & Sauna

Mini-Cinema

Residents' Lounge

Residents' Café

24/7 Security & Surveillance

Outdoor Seating Area

Designated Parking


Why invest in Zameen Quadrangle?
Zameen Quadrangle is projected to become a real-estate gold-mine, given its location and unmatched facilities. Other investment-worthy incentives include:

The project is approved by the Lahore Development Authority (LDA), thus guaranteeing the safety of your investment

Zameen Quadrangle is registered with FBR; meaning income source declaration is not required

A rental yield of 7% is expected annually

A prime location on Zafar Ali Road with close proximity to major roads of the city

Its premium facilities, unique design, unparalleled views, coupled with the highest standards of construction, make it the most desirable investment

Project by Zameen Developments, one of the most reputable real estate developers in Pakistan, the project is expected to be finished and delivered in a timely fashion

127% increase in the demand for apartments in Lahore between 2018 & 2020

50% increase in average per square foot price of apartment units in Lahore
Features
Business and Communication
Healthcare & Recreational
‌
Floor Plans
2nd to 5th-Typical Floor plan
3D Walkthrough
Zameen.com
Launched in 2006, Zameen.com started as the largest property portal of Pakistan. The platform soon became one of the most reputed and recognised establishments within the country's real estate sector as it developed an affiliates' network and started marketing & sales services. Today, it ranks among the top 5 property portals of the world. The portal provides a user-friendly interface to connect property buyers with sellers as well as tenants with landlords. A holistic marketing approach allows Zameen.com to meet developer goals and buyer demands, along with guaranteeing a transparent experience. Furthermore, the company leads the market by introduction of several consumer-friendly products, including Plot Finder, Property Bank, Geomatics Solutions, property indices & search trends, Zameen App, real estate news, and informative blogs.
Pakistan's Largest Tech-enabled Real Estate Company
Presence in over 30 Citie 3,000+ Employees
Exclusive Sales & Marketing Services
Marketing 100+ Real Estate Projects across Pakistan
500+ Strong Tech Team
Network of 25,000+ Real Estate Agencies
19+ Property Expos
20 Million+ Property Listings
5.5 Million+ Monthly Website Visitors
1.6 Million+ Subscribed Members