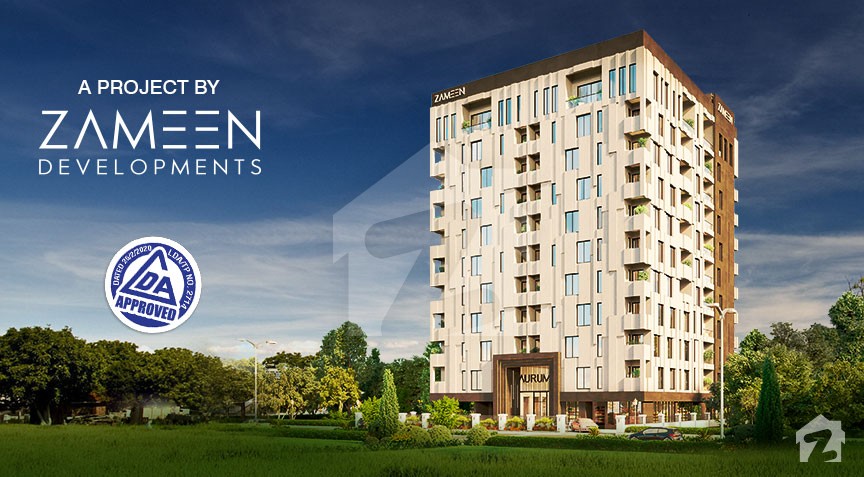 A refined addition to the skyline of Lahore, intricately molded to radiate the perfect sense of family living, Zameen Aurum is all set to lead the trend of vertical development in the city. A distinct symbol of elegance, it is the 5th offering being introduced by Zameen Developments, after successfully establishing a name for themselves in the real estate markets of Lahore, Islamabad, and Rawalpindi.

An Assortment of Extravagant Real Estate

Tastefully crafted and equipped with all the principal features of a high-end project, Zameen Aurum features a range of property options:


Studio, 1, 2 & 3 bedroom apartments/Single-storey & Duplex Penthouses

Single-storey & duplex penthouses

Service outlets


A Glistening Beacon

An ultra-modern architectural phenomenon being constructed on an area of 4 kanals, Zameen Aurum seamlessly combines the comfort of home with the desire of luxury for both residents and visitors. The perfectly landscaped entrance and spacious rooftop give way to gorgeous, expansive green spaces within the premises; while the apartments are naturally ventilated and offer stunning views of the city.

Zameen Aurum is an earthquake-resistant structure approved by Lahore Development Authority (LDA). The establishment boasts a 15-story master plan, bifurcated into 3 basements, a ground floor and 11 upper floors; which harmoniously incubate a secure and peaceful environment for the families.

The apartments and penthouses are layered with consumer-driven, contemporary design preferences; and facilitated by commercial outlets, they lay the foundations of a wholesome, day-to-day lifestyle.

Along a Luminescent Path

Zameen Aurum is centrally located in Gulberg 3, the heart of Lahore. This prestigious locality is home to the best educational, commercial, healthcare and recreational facilities in the city. Residents of this vicinity also enjoy an exclusive sense of robust community living.
The project's location is dissected as:

Opposite Model Town's Entrance, adjacent to Ferozepur Road

1-minute drive from Kalma Chowk

1-minute drive from Main Boulevard

1-minute drive from Centre Point

5-minute drive from M.M. Alam Road

5-minute drive from Liberty Market

6-minute drive from Gaddafi Stadium


Unrivaled Amenities

True to their development philosophy, Zameen Developments have incorporated an array of state-of-the-art facilities in Zameen Aurum, promising thus a lifestyle beyond imagination.

Grand Lobby

Rooftop Recreational Area

Mini Cinema

Residents' Café

Gymnasium & Fitness Suite

Outdoor Yoga Centre

Swimming Pool

Spa & Sauna

Artisan Pastry Shop*

Unisex Salon*

Grocery Store*

Dedicated Launderette*

3-floor, Dedicated Basement Parking

E-tag controlled, Automated Entry System

High-speed Elevators

Round-the-clock Security & Surveillance

24/7 Facilities Management

24/7 Power Backup


A Beaming Investment


Zameen Aurum is approved by Lahore Development Authority (LDA), thus guaranteeing the safety of your investment.

Real estate prices in the vicinity increased by 40-50% in the last 3 years, and are projected to increase by 50-60% during the next 3 years.

An optimal location Gulberg, Lahore; directly connecting Zameen Aurum to the prime areas of the city.

Offers premium facilities at a much lower price than other real estate projects in the vicinity.

Zameen Aurum's unique design, coupled with the highest standards of construction, make it the most desirable destination for your future home.

A contemporary design palate, elevated by the amenities that surround the apartments, makes Zameen Aurum a perfect home for a modern family.

Being constructed by one of the most reputable real estate developers in the country, Zameen Developments, the project is expected to be finished and delivered in a timely fashion.

The ever-increasing demand for vertical developments in Lahore, owing to the change in customer preferences, make this project more desirable for investors.

Pakistan requires over 700,000 new residential units annually due to the increasing level of housing shortfall, and reasonably priced projects like Zameen Aurum play a pivotal role in addressing this requirement.

A return on investment (ROI) of 6.25% offered by Lahore's real estate sector was among the highest across all the cities of Pakistan in 2019.

Search volumes for apartments increased by 127% between January 2018 and September 2020.
Features
Business and Communication
Healthcare & Recreational
‌
Floor Plans
Penthouse Type B (Level 1)
Penthouse Type B (Level 2)
3D Walkthrough
Zameen.com
Operating in the real estate market for more than 14 years, Zameen.com is a name that enjoys the trust of property buyers and investors, based in Pakistan and other regions of the globe especially the UK, USA, Canada, and the Gulf countries. The company has sold over 15,500 high-end and affordable real estate options since 2017, catering to various factions of the market. Zameen.com applies rigorous procedures to ensure that you enjoy peace of mind while purchasing trendy realty units. With over 5.5 million monthly visitors on their website, and equipped with offices and service centers all over the country, Zameen.com delivers an unmatchable experience to individuals who are investing their hard-earned money in premium residential and commercial offerings. Hence enjoying exceptional brand equity in the real estate market.