8 Shops for Sale in Karachi
88 sqft

-

93 sqft

clear all filters
Shop 3rd Floor Madni Mall

MADNI MALL whole sale market of clo

...

more

Gulistan-e-Jauhar - Block 16-A, Gulistan-e-Jauhar

Shop Is Available For Sale

Project Rado Hill View, Corner And

...

more

Canal Road - Mirpur Khas

The Citizen Gold Housing Scheme

Starting from

North Nazimabad - Block B, North Nazimabad

Own A Shop In 90 Square Feet Karachi

Sublease Shop Available for sale 9

...

more

Added: 6 days ago

(Updated: 6 days ago)

Allahwala Town - Sector 31-B, Allahwala Town

Ready To Buy A Shop In Allahwala Town - Sector 31-B Karachi

By considering the fact you're look

...

more

Bahria Town Karachi - Karachi

Athars Amans Castle

Starting from

Diamond City, Gulshan-e-Maymar

Shop For Sale

main 30 feet Road VIP Location Buy

...

more

Allahwala Town - Sector 31-B, Allahwala Town

Shop For Sale

shop for sale in allah wala town It

...

more

Added: 1 month ago

(Updated: 1 month ago)

North Karachi - Sector 11A, North Karachi

Stunning 90 Square Feet Shop In North Karachi - Sector 11a Available

Grab This Auspicious Opportunity To

...

more

Added: 3 months ago

(Updated: 3 months ago)

Shop For Sale

Shop for sale 1st Floor Panorama Sh

...

more

Added: 4 months ago

(Updated: 4 months ago)
See the local trends and highlights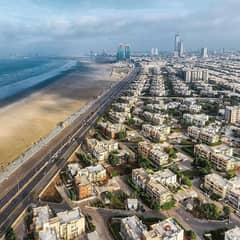 Karachi
Be the first to hear about new properties
Shops for Sale in Karachi
Karachi, the largest city of Pakistan — in terms of population, spans across a land mass of 3,780 km² — and holds the United Nation (UN) estimation of being the 12th largest city in the world. Being a port city, Karachi holds immense importance in the economic activities of Pakistan, as the city controls the majority of the international activity — economically. Karachi is home to at least 15,400,000 people, allowing you to take full advantage of commerce activities, if you buy a shop for sale here. Moreover, the two largest seaports of the country — Port Bin Qasim and Port of Karachi — are located in Karachi, making it an industrial and financial hub. As a result, at least 95% of international trade is processed at these two ports.
Why buy a shop for sale in Karachi?
The 'City of Lights' has remained at the center of almost all the major economic activities for over decades. Buying a shop for sale in Karachi allows you to take advantage of this prime economical and business locality. Additionally, when performing market research, people have a tendency to establish their business near the existence of similar businesses. When buying a shop for sale in Karachi, you need to understand the growth and expansion prospects of doing so. The city offers immense commerce opportunities, which are so diverse in nature that you can simply take advantage of the demand and supply gap. Despite the socio-political unrest in the city and the fact that it is home to the largest economic activities in the country, buying a shop for sale in Karachi enables you to easily operate and expand here.
What are the types of Shops available for sale in Karachi?
Being the largest city and the main economic hub of Pakistan, there is more than ample space for you when buying shops for sale in Karachi. There are immense opportunities for you, regardless of the budget constraints — Karachi has it all. There are large dedicated commercial hubs with numerous shops located within it, allowing you to take full advantage of the available market space, and generating a good turnover via your shop.
Types of Shops Available for Sale in Karachi
Type
Price
12 sq ft — 45 sq ft
45 sq ft — 60 sq ft
60 sq ft — 75 sq ft
75 sq ft — 87 sq ft
90 sq ft — 100 sq ft
100 sq ft — 150 sq ft
150 sq ft — 255+ sq ft
Showrooms & Plaza floors
(500 sq ft — 5,000 sq ft)
What is the Sales Price Trend of Shops in Karachi?
The shops available for sale in Karachi range between PKR 5.5 lakh and PKR 53 crore. The price range of shops, spanning over 45 sq ft size can be found within PKR 5.5 lakh and PKR 70 lakh. Shops of sizes 45 sq ft to 60 sq ft will cost you from PKR 6 lakh to PKR 90 lakh. Similarly, the 75 sq ft to 89 sq ft shops for sale in Karachi costs between PKR 7 lakh and PKR 3.2 crore, whereas the 90 sq ft to 150 sq ft shops cost from PKR 8 lakh and PKR 3.5 crore. The price for shops of size 150 sq ft to 250 sq ft will cost you from PKR 5 lakh to PKR 4.75 crore. Moreover, the shops (of size 250 sq ft to 500 sq ft) will cost around PKR 17 lakh and PKR 12 crore. The larger, showroom shops for sale in Karachi, costs between PKR 12 crore and PKR 53 crore — depending on the location and size.
However, it is pertinent to mention here that the shops located on the ground floor, or having a front display, situated on the main road, and/or corner units have a higher price than the shops located deep within a marketplace.