Islamabad: The Capital Development Authority (CDA) on Tuesday issued a press release wherein it stated that in pursuance of the government's ease-of-doing-business initiatives, the civic agency is now available at 1BILL that's powered by 1Link, according to news sources.
Read: CDA to set up parking plazas in capital city markets
1BILL is a unified payment concept that enables customers to pay all their bills including credit card bills, utility bills, government bills and fee vouchers using a single interface. This 1BILL facility will allow residents of Islamabad to deposit water charges, property taxes and other charges to the CDA through mobile and online banking services.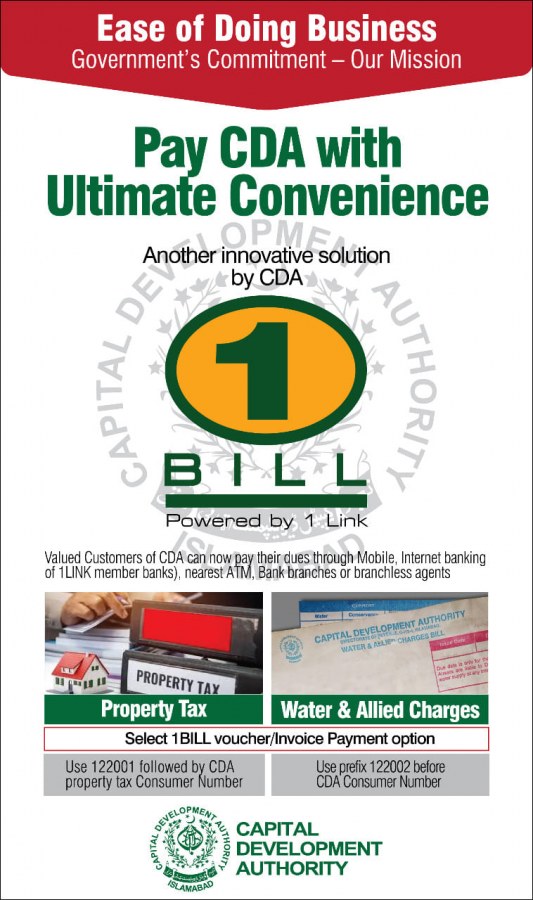 For payment of property tax deposit, citizens will be able to use prefix 1220001 followed by CDA property tax consumer number. Similarly, for water and allied charges, customers can use prefix 122002 with authority's consumer number under the 1BILL payment option.
Read: CDA cancels earmarked plots; will issue allotment letters after ballot
CDA Chairman Amer Ali Ahmed revealed that this initiative is introduced to reduce human interaction and promote contactless billing. He said that this initiative is part of CDA's large-scale automation plan.
Related News