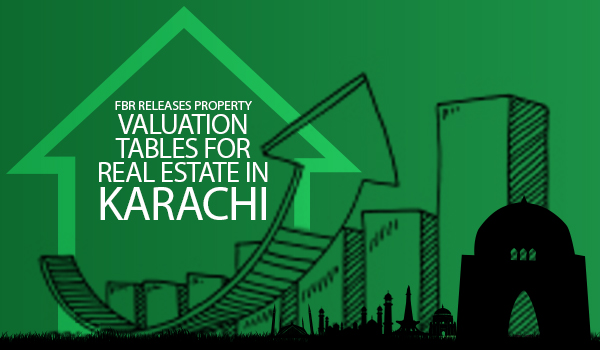 In an attempt to determine the fair market of value of real estate in Karachi, the Federal Board of Revenue (FBR) has released new property valuation tables. The prime purpose of this revision is to fix the difference between Deputy-Commissioner (DC) Rate and the real-time market price of property in the city by the sea.
It is important to note here that the deadlock in negotiations between real estate representatives and the government officials was due to the difference between fair market value of property determined by real estate stakeholders and those calculated by FBR surveyors. However, the matter has been resolved now.
For setting an acceptable fair market value of property in Karachi for the purpose of tax calculation, the city has been divided in eight categories. The categorisation was done on the basis of how expensive a particular area is with properties in Category A-1 marked at the highest rate and those in Category VIII tagged at the lowest.
In Category A-1, FBR has included open commercial plots located on Abdullah Haroon Road, I.I. Chundrigar Road, Shahrah-e-Faisal, Bombay Bazar, Bhori Bazar, Queens Road, Zain-ul-Nisa Street, Joria Bazar, Marriot Road, New Challi, Pakistan Employee Cooperative Housing Society, Railway Quarters, Saleh Mehmood Street, Siraj Quarters and Sarafa Bazar. The value of commercial plots, as determined by FBR for the purpose of tax calculation, in the mentioned areas is PKR 100,000 per yard2.
The housing societies that fall in Category A-I include Clifton Quarters, Bath Island, DHA Phase I, II, III and V, Civil Lines, Dhoraji Cooperative Housing Society, Garden East Quarters, KDA Officers Housing Society, KDA Scheme 1 and 1A, Karachi Administrative Cooperative Housing Society, Karachi Cooperative Housing Society, Muhammad Ali Cooperative Housing Society, Pakistan Employees Cooperative Housing Society, Sindhi Muslim Cooperative Housing Society, and Upper Gizri. The new valuations of open residential plots in these societies is PKR 35,000 per yard2.
According to the document released by the FBR, commercial and residential open plots in Category I will be valued at PKR 75,000 per yard2 and PKR 25,000 per yard2 respectively for calculating property tax. While in Category II, the property rate will be PKR 60,000 per yard2 for open commercial plots and PKR 12,000 per yard2 for open residential plots.
For commercial and residential open plots that fall in Category III, the new values will be PKR 25,000 and PKR 6,000 per yard2 respectively. And the new rate of open commercial plots falling in Category IV will be PKR 19,000 per yard2 and that of residential property will be PKR 5,000 per yard2.
More details regarding new rates set for flats, buildup and open commercial, residential and industrial properties as well as areas falling in other categories will be shared in our next blog. So stay tuned for that! Meanwhile, if you wish to have a say on the stated information, feel free to use the comments section below.
Related News
Samra Zulfiqar is a Real Estate Analyst at Zameen Media (Pvt) Ltd. You can also find and follow her on
Google+
.