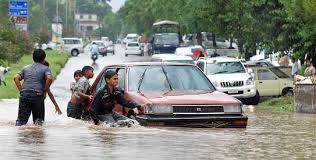 Heavy monsoon rain hit Lahore on July 15, 2013 at 7:30 am. The excessive downpour that continued for almost 90 minutes drenched the city. Monsoon season has begun formally and the first couple of rains alone have quite openly exposed the performance of the concerned authorities. Poor drainage system and blocked sewerage drains made the Monday morning quite horrible for the office employees who had to literally swim their way to the offices.
With this rain, the posh and less privileged areas of Lahore suffered the same as the rain drains in the entire city were equally inefficient in clearing the water. Rain water affected the less privileged areas of Lahore more aggressively and mounted the people's trouble by flooding their homes. With prolonger power outage, people's troubles have been aggravated. With almost entire Lahore floating in rain and sewerage water, the special Ramadan markets set to facilitate people have instead turned into a muddy mess.
City's posh areas such as Gulberg, Cavalry, Modal Town, Shah Jamal and Main Boulevard DHA Lahore too fell victims to the WASA poor monsoon management plan. Rain water blocked several important parts of Lahore including Muslim Town Mor, Centre Point, Shah Jamal, Liberty Round About and Qaddafi Round About. That was the sad monsoon story of Lahore's best kept areas and the worst happened in Misri Shah, Yateem Khana, Mozang, Bilal Ganj, Sheranwala, Badami Baagh, Gawalmandi, Garhi Shahu, and Do Morya Pul.
The much needed and soothing down pour turns Lahore into a mess each year where the rain water later becomes mosquito hatcheries and causes dozens of other health and hygiene related issues. Sadly, no government has so far addressed this issue to help Lahore, the city of gardens, blossom to the fullest in Monsoon and offer its citizen an ambience that was once mentioned in famous novels and writings of Urdu literature.
Related News