Islamabad: Grand Hills is the latest entrant to the thriving property market of the capital city. It is situated in Makhniyal on Pir Sohawa Road; lying in close proximity to major tourist attractions such as Damn-e-Koh, Monal, Highland and La Montana Restaurant. This prime location accounts for the primary reason behind the uptick in demand for Grand Hills flats seen among both investors and tourists seeking well-planned vacations homes in Islamabad.
Location highlights
30 minutes away from Islamabad
9km away from Monal & La Montana Restaurant
1km away from Sanghra and Highland Resort
3km away from Dino Valley
What's on offer?
Grand Hills offers one-bed residential resorts on convenient payment plan options. The high-rise development is nestled within the lush green landscapes of the magnificent Pir Sohawa, which itself is 8-10 degrees cooler than Islamabad (as per developer brochure). The residential complex comprises '2 buildings having G+4 floors with total of 100 units based on an area of 1 Kanal'.
Amenities
The residential accommodations in Grand Hills offer the perfect combination of luxury and affordability. Further, these properties come equipped with a fine range of amenities such as elevators, 24/7 security power backup facility, air conditioning and heating (for furnished units), firefighting equipment, and emergency exit.
Why invest in Grand Hills?
Both investors and genuine buyers will be glad to know that the developer has acquired all required approvals from the Tehsil Municipal Administration (TMA) Khanpur. The high-rise development also guarantees high returns on investment and solid rental yields.
How to book a unit in Grand Hills?
Zameen.com has all the information you need on the project. For online booking arrangements, please fill out the form; appearing on the right side of the screen (for desktop users). Mobile users will find the said document at the bottom of this piece.
Related News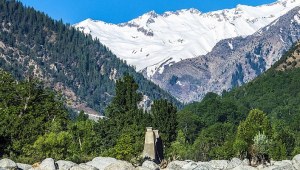 Karachi: The Cogen Power and Desalination Plant of the Defence Housing Authority (DHA) was recommissioned …