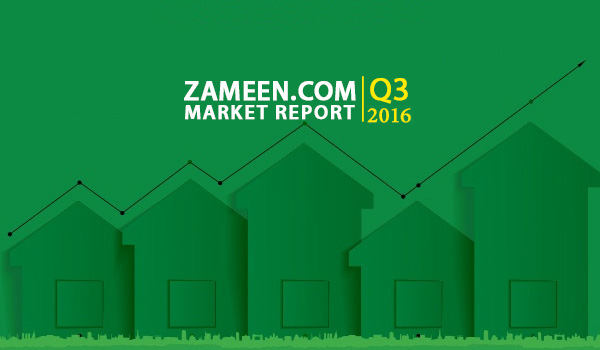 OVERVIEW
The new property tax regime, which came into effect in July this year, has managed to push Pakistan's property market further down the path to a major depression, as sale-purchase activity continues to dwindle and even asking prices are taking a turn for the worse.
According to the stats maintained by Zameen.com, property prices in Lahore, Islamabad and Karachi plunged sharply in Q3 2016, which constitutes the three months immediately following the announcement of the new tax laws. In the same period last year (2015) by comparison, the property market was positively gliding along. Karachi boasted a stellar overall performance, Lahore exhibited a noteworthy upward push, and Islamabad also posted decent numbers. Conversely, Q3 2016 has been a major deviation from the usual yearly trends, and the reasons are obvious.
In Lahore's property market, not a single major locality – including DHA Lahore and Bahria Town – could invite enough interest from stakeholders to keep prices going, and registered sharp drops in property values across the quarter. Islamabad's realty sector languished as well, as property prices in all major neighbourhoods dropped with only a few exclusions. Karachi was no exception either, with obvious downward trends in its property values plaguing the city's usually upbeat real estate market. In the first six months of the year, Karachi's market had exhibited a strong upward push, which has become a thing of the past since the implementation of the new tax regime.
Generally, this quarter ended quite badly for the real estate sector with negligible investment activity indicating further depression in the times ahead if the tax regime remains as it is.
LAHORE
There were only a few bumps along the way in Lahore's real estate landscape in Q3 2015, but in Q3 2016, the market was literally on the rocks. Amid stalled investment activity, average asking prices in DHA Lahore's Phases VII to IX plummeted with a 2.74% drop in the 1-kanal plot category and a 3.55% drop in the 10-marla plot category. Even in Phases I to VI, where activity is mostly steered by genuine buyers and sellers, controlled drops in property values were recorded during the quarter – an ominous sign to say the least.
Where the prices of 1-kanal plots in Bahria Town remained stable, same sized plots in Bahria orchard lost 3.49% in average value. In LDA Avenue I, dips of 3.49% and 3.10% were registered in the average prices of 1-kanal and 10-marla plots respectively.
1 kanal
10 marla
ISLAMABAD
As mentioned in the overview, the federal capital's property market also went through a rough patch during Q3 2016.
Average prices of 1-kanal plots in DHA Islamabad and Bahria Town dropped 1.49% and 1.31% respectively over the course of the three months after the government increased taxes on property transactions and revised the valuation rates.
Sector B-17 also remained on a standstill in terms of sale-purchase activity during Q3 2016. As a result, average prices of 1-kanal plots in Sector B-17 fell 3.32%. Sector F-11 had registered somewhat stable numbers during the first six months of 2016, however, the third quarter brought along controlled drops in the property prices in this locality as well. Gulberg Residencia was the only locality where a controlled rise of 2.29% was registered for 10-marla plots.
1 kanal
10 marla
KARACHI
Karachi's property market had been performing exquisitely since the beginning of the year as the city's law and order improved consistently. However, as soon as the new tax regime was introduced, things took a turn for the worse and Q3 2016 left the realty sector gasping for air.
Prices of 500-yard2 plots in DHA Karachi and DHA City Karachi had increased 8.27% and 16.60% respectively in Q3 2015, but in Q3 2016, the same localities registered major drops of 4.03% and 7.22% in that order. Bahria Town Karachi also felt the blow of the increased property taxes, causing prices of 500-square yard and 250-square yard plots in the locality to dip by 1.77% and 4.15% respectively.
Following the same trend, Gulshan-e-Iqbal's 500-square yard plot category saw a drop of 3.55% in value over the course of Q3 2016, and its 250-square yard category also suffered.
500 square yards
250 square yards
FINAL ANALYSIS
Though the real estate market is on the precipice of what might turn out to be a dangerous depression, the situation can still be mitigated if appropriate measures are taken immediately. News of investors shifting their capital to other countries is sour news indeed, and if the standstill in the property market persists and prices drop any further, this could have long-term negative effects on what is usually one of the country's strongest economic sectors.
Consider the fact that the above analyses from Lahore, Karachi and Islamabad are based on asking prices – which do mirror actual price trends very closely but are usually higher. That makes for a frightening actual on-ground picture. Reports of real estate agencies closing shop as a result of loss of business abound, and if the sluggish market performance continues unabated, we're looking at a major hit to livelihoods across the country.
"It is important to understand that the market situation can still be corrected with a more pragmatic revision of the new property tax regime. However, if things continue the way they are, the real estate market is looking at a very long, very cold winter ahead. Asking prices have still not dropped as far as they could have, but another few months of this scenario will see them take a turn for the worse as well. That will be the point of no return, so the government needs to act immediately," said zameen.com CEO Zeeshan Ali Khan.
Related News
Zain Nadeem is a Deputy Editor at Zameen Media (Pvt) Ltd. You can also find and follow him on
Google+