Islamabad: The World Bank (WB) Board of Executive Directors on Friday (March 11) has approved funds of USD 435 million for three housing and land projects in Pakistan, according to media reports. The projects include the Punjab Affordable Housing Program, the Pakistan Housing Finance, and the Punjab Urban Land Systems Enhancement.
Read: Minister receives briefing on ongoing 54 WB-funded projects
As per the details, these three projects will provide easy access to housing finance for low-income households, promote affordable housing developments in urban Punjab, and improve land tenure rights. According to sources, the said projects will help address housing needs in the country through leveraging the private sector and facilitating access to mortgage options for those who cannot access financing to buy a home. It will also strengthen property rights in the country along with the increasing supply of climate-resilient, affordable housing developments.
Moreover, additional funds of USD 85 million has been approved for the Pakistan Housing Finance Project in order to promote the credit risk-sharing facility, which was launched in 2018. The purpose was to provide partial credit guarantees to the banks to incentive them to increase lending to borrowers excluded from commercial financing.
Reportedly, the financing will help 70,000 first-time homebuyers (who are eligible for Mera Pakistan, Mera Ghar programme) in Pakistan. It was disclosed that USD 200 million has been reserved for Punjab Affordable Housing Programme to increase the availability of affordable housing. Through this programme, the government system will be able to establish an enabling environment that attracts private finance for mixed-income housing developments.
Read: WB asks Pakistan to implement 'prior actions' for RISE-II
Additionally, USD 150 million were approved for Punjab Urban Land Systems Enhancement Project. Under this initiative, it will facilitate the government to upgrade its land registry by creating a digital and province wide-inventory of lands and deeds.
Related News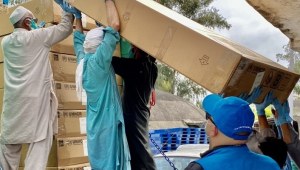 Lahore: The Faisalabad Development Authority (FDA) on Friday demolished and sealed nine illegal housing societies …