Property for Sale in
EME Society
Results 5,301
More About EME Society Lahore
Overview of EME Society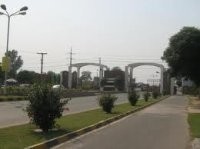 Situated along the LBDC (Lahore Branch Distributary Canal) around 4km away from Thokar Niaz Baig on Canal lies the DHA-EME Sector which was previously known as
EME Society
. DHA acquired EME Society and incorporated a few changes in it according to its rules and regulations. Since DHA is known for offering a posh lifestyle in Lahore so as soon as EME Society was taken under the umbrella of the DHA, it became a prime housing project for elite living in Lahore.
DHA has strategically developed EME Society Lahore on around 5700 kanals of land having a main entrance from the western side of society through Canal Road and Multan Road. DHA has also completed 160 houses of 5 marla in EME Society which are adjacent to D Block and have been given the name of DHA EME Cottages with the aim to provide affordable houses with high standard of living to fulfil the growing housing needs of people living in Lahore.
DHA-EME Sector has become a popular residential spot and investment spot in Lahore. Currently DHA has 3632 plots in EME Society in sizes of 5 marla, 10 marla, 32 marla, 1 kanal and 2 kanal which make ideal investment options for locals as well as foreigners interested to invest in Pakistan property for earning high capital gains within a few years. On the other hand, completed houses in DHA-EME Sector make the hot living spot due to their superior furnishings, excellent interiors and peaceful lifestyle.
EME Society is one of the most prestigious and largest housing societies in Lahore which offer a healthy and efficient civic life to its residents. When DHA acquired it, it widened its roads and introduced several communal facilities like parks and mosques to bring it up to the level of its other housing projects in Lahore. A lot of facilities in proximity such as restaurants, cafes, beauty salons, gyms, independent retail outlets, restaurants, schools, medical centres and shopping malls add to the lure of EME housing society and make it an ideal spot to enjoy a complete lifestyle in Lahore.
For sport lovers, DHA-EME Sector features a sport climbing arena which is an ultimate way to have fun and adventure of rock climbing. The sport club lures people of all ages to climb varied heights with the minimum risk of injuries. Moreover, EME Society also features a Shalimar Mini Golf Club (launched in 2012) which is a prime leisure and sporting venue for residents. Due to beautiful landscaping and peaceful environment of a sport club, it also makes the primary spot for commercial video-shooting.
DHA-EME Sector also has an archery centre where members can practice and learn the art of archery with fibre and aluminium arrows. To promote cricket in the country DHA has also started a Cricket Academy ACE (for both men and women), which stands for Academy of Cricketing Excellence. This academy features several courses including practice sessions under the supervision of qualified and experienced national coaches who teach basic and technical skills of cricket in a good atmosphere.
In a nutshell,
EME Society Lahore
is living spot where the quality of life exceeds expectations. It provides the perfect blend of modern, luxurious and comfortable lifestyle to its residents. Hardly anything is lacking in this residential colony but proximity is an issue. For those who cannot afford to buy property in EME society, it offers a plethora of quality properties available for rent.
If you are looking for property in DHA-EME Sector, kindly make use of 'Buy' or 'Rent' sections the site and hunt your desired property within no time.
---
Zameen in EME Society
Zameen is the largest EME Society property portal providing up to date
real estate homes in EME Society
. If you are looking for EME Society real estate homes then Zameen is the ideal resource for your property needs.
To Sell or lease property in EME Society
: Please
register
for free and submit properties in EME Society.
To buy or rent property in EME Society
: Please
register
for free and leave your requirements in the wanted section.