Property for Sale in
Gulberg
Results 9,958
More About Gulberg Lahore
Overview of Gulberg Lahore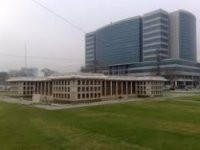 Gulberg Lahore
is the name of a place where the culture resides, business flourishes and people enjoy. One of the biggest commercial and residential areas within the city of Lahore, Pakistan, Gulberg is the hub of business, fashion and food. Linkages to other sites lead to the famous Mall Road, Allama Iqbal International Airport, Model town residential society and Defence Housing Society. It is known for its high end shopping areas, top class business centres, huge sports complexes and amazing restaurants. It is also considered to be the place to look for high class cuisine and fashion. Apart from that, Gulberg is also known as one of the most expensive and exclusive residential areas found in Lahore real estate sector.
When one thinks of Gulberg, one either thinks of gigantic shopping centres and modern restaurants or one thinks about of the exclusivity of the residential areas within its vicinity. Regarding the commercial areas of
Lahore Gulberg
it can be said that no other place can challenge its superiority in variety, bargaining or quality products. It has the biggest shopping areas in Lahore loved by both women and men alike. Liberty market is the place to be for everyone if they need any kind of clothes or readymade garments. Flooded with small and big shops you will witness shop owners screaming out their supposedly lowest rates in the market to anyone and everyone passing by. It is definitely a complete shopping experience one can find anywhere around the world. Also, if one aims at buying high quality designer brands in a top class shopping mall then that too is available in Gulberg.
Also famous for its residential areas, Gulberg hosts one of Lahore's most famous residential schemes. Considered to be one of the most prestigious, safe and most satisfying places to live in, Gulberg has all the facilities and amenities that one would like to look at when choosing a place to live. Everything ranging from shopping malls, restaurants, parks, leisure facilities and sports fields all can be found within or around Gulberg, and that is why it is considered such an exclusive place to reside.
Due to the fact that high ranked military families usually live in cantonment areas, Gulberg residential areas have since become an epicentre for the civilian families in Lahore, making it the preferred place to live for the elite entrepreneurs and industrial people in Lahore. Its reputation as the most posh area in Lahore is quite rightly deserved due to the fact that it hosts the best athletic institutions and the most modern high class facilities including gyms and swimming pools. Hosting nearly all of Lahore's elite no military superpowers along with being a cultural and modern hub all mixed into one makes Gulberg the most posh and qualitative areas to live in.
Focusing the scrumptious dreams, it is not surprising that Gulberg is one of the best places in Pakistan to go and have food, due to Lahore's fascination with food and everything related to it. MM Alam Road in Gulberg has everything food related, from cafés to restaurants dedicated to a specific sort of cooking culture. The enormous amount of variety that this place holds can amaze anyone. From fast food joints, to Pakistani restaurants to modern Italian and Chinese restaurants and even Japanese food is available here. The large amount of competition is what forces these restaurants to deliver high quality modern food in a well furnished location. Apart from the family places, Cafés offer hangout spots for both teenagers and adults alike and provide snacks and lunch facilities along with good atmosphere and a place where friends can gather around a sheesha and food to have a good time.
It can easily be concluded that Gulberg Lahore is definitely the place to be in Lahore. Fashionable, modern, overflowing with facilities and wide varieties of it, Gulberg Lahore has it all. Even if it's living in class and exclusivity that one desires and is willing to spend for, it can all be found in Gulberg Lahore. It's an ultimate experience of fun and sophistication combined.
Community Life in Gulberg Lahore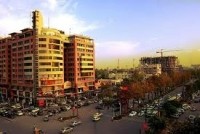 Gulberg being the cultural and commercial hub of Lahore is one of the oldest areas in the city. Ranging from numerous shopping outlets to dining areas and the commercial activity centres, the place is a combination of fun, entertainment and money making innovations. From small vendors to large scale designer shops, classy hangout cafes and restaurants to small ice cream parlours, the place serves the purpose right for both fun filled and professional life. A huge banking area, hospitals, clinics, post offices, courier agents, bookshops, small offices and what not, Gulberg Lahore is the epicentre of commercial activities and entertainment.
While turning right from the famous Kalma Chowk towards the Main Boulevard, you'll witness neat clean and polished roads, well trimmed green belts and trees as green as ever. The main boulevard would have been incomplete had there been no greenery and no wide roads. As you keep driving towards the Liberty Roundabout, you will see thousands of flickering lights at night that will make the drive more enjoyable. Catch a glimpse of the buildings on the left or the right - there will not be any chance that you see a vacant patch anywhere. Numerous buildings do not make the area look overcrowded. The reason is that they have been designed by architectural professionals and are, above all, in a symmetrical order. Besides, government takes strict notice of the maintenance of the roads and the area.
Drop by at Liberty Market and you will keep shopping till your wallet weighs less. Stylo, ECS, Metro will keep you happy with their comfortable and classy footwear. Moreover, the shops also offer trendy and chic handbags and purses. Ladies would love it at Liberty. Cloth shopping has become more fun since the Pathans have taken over the market. Mix and match of lawn prints, classy embroidery and vibrant colours add a life to the area. Find a formal wear from an expensive designer shop or settle the rate with a shopkeeper just sitting outside, either ways, your clothing would look gorgeous. Enjoy a crispy spicy treat of
dahi bhallas, gol gappas
or have full fledged yummy dinner at the famous BBQ restaurants within the market and you will love every bit of it.
Moving towards the famous MM Alam Road, you will find yourself amidst an ocean of restaurants and cafes, designer shops for clothing and shoes and huge malls. Vogue Towers is the latest addition to the list of towers. Within a very short period of time the place has won the hearts of many in terms of shopping. Shopaholics can also drop by at Hajra Hayat, Nikki and Nina, Lark and Finch, Levis, Stone Age or Shoe Planet.
For foodie people there is a whole list of restaurant and cafes chains in the area, such as Pizza Hut, Hardees, KFC, McDonald's, Freddy's, Noodle House, California Grill, Café Zouk etc. People with young blood can sit for a relaxing evening at Espresso, CTC, Jamming Java, Tutti Fruitty or Café Aylanto or Café Kaps. People looking for Japanese, Chinese, French and Italian cuisine can visit the International chains such as the Fujiyama, Cosa Nostra, Yum and Veranda Bistro, they will definitely serve your taste buds right.
As we drive towards the Main Market, a relatively old area of Lahore is 24/7 crowded with ladies, men and children alike. Women definitely end up at the well known Origa/Auriga Centre for cloth shopping. Children can be seen at the stationery shops, Anees Book Corner and the Iqbal Book Corner, shopping excitingly for new books and other colourful stationery. Men would be seen involved in a more business oriented deal. Thousands of offices and small scale entrepreneur centres are a common way of earning a living in this vicinity. Hence, the business does not ever stop at Gulberg, making it a vital part of Lahore real estate sector.
Residents or visitors would most probably end up happy in these streets. Unfortunately, residential area is becoming less in proportion to the commercial centres. However, in some parts of Gulberg, people still live peacefully. They are fortunate enough that anything they need is just nearby and they can grab it within a couple of minutes drive. Overall the area is perfect for living and entertainment both.
---
Zameen in Gulberg
Zameen is the largest Gulberg property portal providing up to date
real estate homes in Gulberg
. If you are looking for Gulberg real estate homes then Zameen is the ideal resource for your property needs.
To Sell or lease property in Gulberg
: Please
register
for free and submit properties in Gulberg.
To buy or rent property in Gulberg
: Please
register
for free and leave your requirements in the wanted section.