429 Plots for Sale in Naya Nazimabad
Close
Locations of Plots For Sale in Naya Nazimabad
Plot For Sale Naya Nazimabad

Naya Nazimabad Block P 120 sq yards

...

more

Naya Nazimabad - Block D, Naya Nazimabad

In Naya Nazimabad Residential Plot Sized 2160 Square Feet For Sale

Block D 240 Sq Yards west Open

...

more

Gulshan-e-Iqbal - Gulshan-e-Iqbal Town

Cliff Vista

Starting from

240 yards block D west open 40 feet road

Naya nazimabad 240 yards plot Blo

...

more

120 Yards Block M 60 Ft Road Facing

Naya Nazimabad A,mark of pride Plo

...

more

Bahria Town Karachi - Karachi

The LIS Villas

Starting from

Naya Nazimabad - Block A, Naya Nazimabad

160 Yards Park Facing Block A

160 yards plot available for sale

...

more

Naya Nazimabad - Block D, Naya Nazimabad

160 Sqd Plot For Sale Block D

Best location Park facing start of

...

more

Get In Touch Now To Buy A Residential Plot In Naya Nazimabad Naya Nazimabad

Naya nazimabad A mark of pride 120

...

more

120 Yards Block A, Plot For Sale Naya Nazimabad

120 yards ploy available for sale

...

more

120 Yards Plot For Sale Block A Naya Nazimabad

120 yards plot available for sale

...

more

120 Yards 40 Ft Road Facing Near A Big Park Block D

Naya Nazimabad A,mark of pride Plo

...

more

120 Yards West Open Plot Block A,

120 yards plot available for sale

...

more

Naya Nazimabad - Block A, Naya Nazimabad

160 Yards Park Facing Block A

160 yards plot available for sale

...

more

120 yards block A naya nazimabad

120 yards plot available for sale

...

more

Added: 1 day ago

(Updated: 6 hours ago)

Naya Nazimabad - Block A, Naya Nazimabad

160 Yards Park Facing Block A

160 yards plot available for sale

...

more

Naya Nazimabad - Block A, Naya Nazimabad

120 Yards Block A Naya Nazimabad

120 yards plot available for sale

...

more

120 yards corner park facing block C

120 yards plot available for sale

...

more

Added: 1 day ago

(Updated: 6 hours ago)

120 yards corner west open lease paid map paid block C

120 yards plot available for sale

...

more

Added: 1 day ago

(Updated: 6 hours ago)

Naya Nazimabad - Block A, Naya Nazimabad

Looking For A Prime Location Residential Plot In Naya Nazimabad - Block A

Your search ends with this Resident

...

more

Naya Nazimabad - Block C, Naya Nazimabad

Prime Location Residential Plot For Sale In Naya Nazimabad - Block C

Just think this Residential Plot ha

...

more

Naya Nazimabad - Block C, Naya Nazimabad

Buy A Prime Location 160 Square Yards Residential Plot For sale In Naya Nazimabad - Block C

The Residential Plot being offered

...

more

Naya Nazimabad - Block A, Naya Nazimabad

Centrally Located Prime Location Residential Plot In Naya Nazimabad - Block A Is Available For sale

Check out our offer for the best Re

...

more

Naya Nazimabad - Block A, Naya Nazimabad

Looking For A Prime Location Residential Plot In Naya Nazimabad - Block A Karachi

A Residential Plot like this can be

...

more

Naya Nazimabad - Block A, Naya Nazimabad

Investors Should sale This Corner Residential Plot Located Ideally In Naya Nazimabad

We know you were in for a treat the

...

more

Naya Nazimabad - Block A, Naya Nazimabad

Prime Location 120 Square Yards Residential Plot Ideally Situated In Naya Nazimabad - Block A

Let us help you narrow down popular

...

more

Naya Nazimabad - Block A, Naya Nazimabad

To sale You Can Find Spacious Corner Residential Plot In Naya Nazimabad - Block A

So you're interested in taking up t

...

more
See the local trends and highlights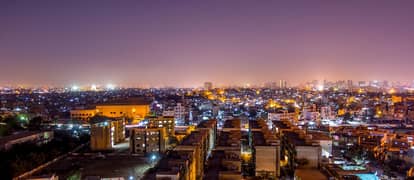 Naya Nazimabad
Be the first to hear about new properties
Buying a Plot in Naya Nazimabad
Naya Nazimabad is a new residential society by Javedan Corporation Limited, which is a part of the Arif Habib Group. The project is being built near New Karachi Town, North Karachi, Buffer Zone, North Nazimabad and Orangi Town. Although it is located on the outskirts of Karachi, Rashid Minhas is just a few minutes away. Naya Nazimabad is considered as the largest private sector development initiative in the city that promises to provide quality housing at affordable prices. As is the case with most of the recent housing societies in Karachi, properties in Naya Nazimabad are very well-planned.
Types of Plots in Naya Nazimabad
The area for residential plots in Naya Nazimabad is divided into blocks A, C, D, M, and N. These blocks are composed of 120, 160, 240, 400 sq. yd. plots. The housing scheme is based on modern architectural plans and has almost all basic facilities like water, electricity, gas, mosques, parks, etc. According to the master plan, the blocks are further divided into streets and each street has plot types. The plots here are good for both investment and building a house. However, you will have to follow the same plan for houses as given by the society owners.
Sale Price Trend for Plots in Naya Nazimabad
The prices of plots in Naya Nazimabad are not the same for every size and the price can depend on a few factors like the size and its location within a block. For example, corner plots are generally pricier. Talking about the rates, the asking price range of 120 sq. yd. plots in Naya Nazimabad starts at PKR 25 lakh and goes up to about PKR 70 lakh. For 160 sq. yd., the price range is PKR 42 and PKR 90 lakh. 240 sq. yd. plots can be bought conveniently from PKR 61 lakh to PKR 1.3 crore. For 400 sq. yd., the range is from PKR 1.7 crore to PKR 2.2 crore.
Facilities & Security in Naya Nazimabad
Naya Nazimabad has been planned to accommodate people hailing from middle-income groups and to provide as much convenience to them as possible with regards to affordability and facilities. The roads here are very wide and residents will have a clubhouse, gymnasium, green areas and parks, Jamia Masjid, horse riding club, cricket and football stadiums, and many banquet halls. For water supply, they have built overhead water tanks. Gas and electricity supplies are also being installed. Other than this, there are several check posts and a boundary wall around the area for the security and safety of residents.
Schools, Universities & Hospitals in Naya Nazimabad
Naya Nazimabad has a specific area, where an education complex is going to be built exclusively for schools. Residents will get facilities in the area that will offer kindergarten, primary and secondary education. Universities haven't been planned yet but there will be a centre for vocational training for learning fine arts, computer, cooking, karate, embroidery, etc. Naya Nazimabad is going to have a well-equipped hospital and medical complex as well to provide immediate treatments to the residents.
Shopping & Restaurants in Naya Nazimabad
Inside Naya Nazimabad, there aren't any choices for malls or restaurants. However, just 15-20 minutes away, there are a few frequently-visited restaurants offering mouth-watering food. Some of them are Nando's, California Pizza, Broadway Pizza, Delhi Sohail Restaurant, and Mateen Pakwan House. Apart from restaurants, some prominent malls like Dolmen Mall Hyderi, Bhayani Shopping Centre, Saima Pari Mall, and Crown Shopping Centre provide several options for shopping for clothes and other accessories. Bilal Departmental Store is a popular mart for grocery shopping in Naya Nazimabad.