161 Flats for Rent in Bahria Town Karachi
Close
Locations of Flats To Rent in Bahria Town Karachi
Bahria Apartments, Bahria Town Karachi

2 Beds For Rent.

Bahria Town Karachi. 02 Beds Apar

...

more

Bahria Apartments, Bahria Town Karachi

Ideal Flat In Karachi Available For

Looking for a Flat? Well, don't sea

...

more

Malir Link To Super Highway - Karachi

Roomi Icon

Starting from

Bahria Town - Precinct 19, Bahria Town Karachi

Bahria 3 Bed Apt For Rent

FIRST FLOOR THEME PARK FACING READY

...

more

Bahria Town Karachi, Karachi

Brand New Tower 14 Fourth Floor 2 Bedrooms Apartment Available For Rent

This Property Associated Uncountabl

...

more

Karachi Golf City - Karachi

Palm Dreams Karachi

Starting from

Bahria Town - Precinct 19, Bahria Town Karachi

950 Square Feet Flat Is Available For rent In Bahria Town - Precinct 19

Your search ends with this Flat. Re

...

more

Bahria Apartments, Bahria Town Karachi

2 Bedrooms Luxury Apartment For Rent In Bahria Town Bahria Apartment

A Master-Planned Community with Wor

...

more

Bahria Apartments, Bahria Town Karachi

Find Your Ideal Prime Location Flat In Karachi Under

Bahria Town Karachi. 03 Beds Apar

...

more

University Road - Karachi

Shahmir Residency

Starting from

Bahria Apartments, Bahria Town Karachi

Highly-coveted Prime Location 2950 Square Feet Flat Is Available In Bahria Apartments For rent

Bahria Town Karachi. 04 Beds Apar

...

more

Bahria Apartments, Bahria Town Karachi

Investors Should rent This Prime Location Flat Located Ideally In Bahria Town Karachi

Bahria Town Karachi. 04 Beds Apar

...

more

Bahria Apartments, Bahria Town Karachi

Buy A Prime Location 2250 Square Feet Flat For rent In Bahria Apartments

Bahria Town Karachi. 03 Beds Apar

...

more

Bahria Apartments, Bahria Town Karachi

2 Bedrooms Luxury Apartment For Rent In Bahria Town Bahria Apartment

A Master-Planned Community with Wor

...

more

Bahria Town Karachi - Karachi

Prism Mall

Starting from

Bahria Town - Precinct 19, Bahria Town Karachi

Chance Deal 940 Square Feet 2 Bed Apartment For Rent In Precinct 19 Bahria Town Karachi

Chance Deal 940 Square Feet 2 Bed

...

more

Bahria Town Karachi, Karachi

PKR 35,000 Thousand 950 sq. ft Bahria Apartment Tower 24, Two Sides Corner

PKR 35,000 Thousand 950 Sq. Ft. 2 B

...

more

Added: 3 days ago

(Updated: 1 day ago)

Bahria Apartments, Bahria Town Karachi

Tower 11, 3rd floor Appartment near to shopping gellery and entrance available for w

This Property Associated Uncountabl

...

more

Bahria Town - Precinct 19, Bahria Town Karachi

Tower 6 First Floor 2250 Sq Ft 3 Bed Flat Available For Rent

For More Details please contact. Th

...

more

Bahria Town - Precinct 19, Bahria Town Karachi

2250 Square Feet Flat In Bahria Town - Precinct 19 Is Best Option

We know you were in for a treat the

...

more

Bahria Town - Precinct 19, Bahria Town Karachi

2 bed apartment for rent available in bahria town karachi

Bahria town karachi precinct 19 To

...

more

Bahria Apartments, Bahria Town Karachi

3 Bed Apartment Available For Rent In Precinct 19

Iqbal Villa With Key Available For

...

more

Added: 19 hours ago

(Updated: 19 hours ago)

Bahria Town - Precinct 19, Bahria Town Karachi

2 Bed Apartment Available For Rent In Precinct 19

Iqbal Villa With Key Available For

...

more

Added: 19 hours ago

(Updated: 19 hours ago)

Bahria Town - Precinct 19, Bahria Town Karachi

950 Square Feet Flat In Central Bahria Town - Precinct 19 For rent

The Flat is designed keeping in min

...

more

Bahria Town - Precinct 19, Bahria Town Karachi

Flat Of 950 Square Feet For rent In Bahria Town - Precinct 19

A Flat in Bahria Town - Precinct 19

...

more

Bahria Town - Precinct 19, Bahria Town Karachi

Bahria Town - Precinct 19 Flat For rent Sized 950 Square Feet

A Flat like this doesn't come aroun

...

more

Added: 2 days ago

(Updated: 2 days ago)

Bahria Town - Precinct 19, Bahria Town Karachi

Spacious Flat Is Available For rent In Ideal Location Of Bahria Town - Precinct 19

Of course, if you're looking for Fl

...

more

Bahria Town - Precinct 19, Bahria Town Karachi

Good 950 Square Feet Flat For rent In Bahria Town - Precinct 19

Take it from us, a Flat like this d

...

more

Bahria Town - Precinct 19, Bahria Town Karachi

950 Square Feet Flat Is Available For rent In Bahria Town - Precinct 19

Live in a Flat that compliments you

...

more
See the local trends and highlights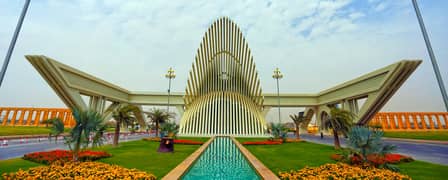 Bahria Town Karachi
Be the first to hear about new properties
Renting a Flat in Bahria Town Karachi
Karachi, home to one of the largest seaports in South Asia, is the financial centre of Pakistan. The city is also a melting pot of many cultures, ethnicities and religions. Being a metropolis, a large number of multinational, industrial and corporate offices are headquartered here. People from across the country flock to this city, almost every single day, in search of a better life. As a result, Karachi's population has grown exponentially — so has the demand for residential property.
Karachi has a plethora of houses, flats and high-rise buildings, catering to the needs of people belonging to different groups, from all walks of life. For the past decade, property values in Karachi have been shooting through the roof. Therefore, buying a house, or even an apartment in a nice locality can be a difficult task. If you are looking for accommodation, then you can, however, easily rent a flat in Karachi.
One of the most recent, and immensely popular, housing societies in the city is "Bahria Town." It is a well-planned, walled community, offering luxurious and affordable flats for rent. With its robust infrastructure and world-class amenities, Bahria Town Karachi has turned out to be a stellar addition to the real estate of Karachi.
Extended over an area of 44,000 acres, located just 9 km away from Karachi-Hyderabad Motorway (M9) and 25 km from Jinnah International Airport, Bahria Town Karachi offers an exclusively luxurious lifestyle to all its residents.
Types of Flats in Bahria Town Karachi
Flats in Bahria Town are elegantly designed to offer both convenience and comfort. Plus, almost all the apartment complexes in the society are situated near high-end hotels, Asia's largest mosque, state-of-the-art hospitals, restaurants and schools. So, if you're looking for renting flats in the community of Bahria Town Karachi, you will come across a lot of good options to choose from as these apartments usually come in 2, 3, and 4-bedroom units. One of the classic examples of a residential high rise in the area is 'Bahria Apartments.' Nearly all the flats in Bahria Apartments are semi-furnished with quality fixtures and fittings, a modern kitchen and balconies that give a breathtaking view of the entire society.
Another complex that provides good renting options is 'Bahria Heights,' where each block comprises four identical buildings. It offers ultra-modern 2-bedroom apartments, covering an area of approximately 1,100 sq.ft (a little over than 4 marla). Renting a flat here means easy access to all nearby community parks, gyms, malls, restaurants etc.
Rent Price Trends for Flats in Bahria Town Karachi
Bahria Town has redefined the word "luxury living" in Karachi and raised the standards of living to new heights. Apartments here fall in various price categories, mainly depending upon location and area. In general, the rental price trend of flats at various precincts of Bahria Town lies between PKR 18 to PKR 50 thousand.
If your budget is between PKR 18 to PKR 40 thousand, then Bahria Apartments is the best option for renting flats as they are equipped with all the modern amenities. You can rent a 2-bedroom flat in Bahria Apartments for PKR 18 thousand and a 3-bed apartment for PKR 32 to PKR 40 thousand. The rental price for a 4-bedroom flat for rent in Bahria Town Karachi lies between PKR 45 to PKR 50 thousand. The rental prices are comparatively lower here than other prominent locations of Karachi like DHA and Clifton, etc.
Schools, Universities & Hospitals in Bahria Town Karachi
Bahria Town, as per its website, strongly believes a nation's success lies in its education. To this end, the society has established a Roots Millennium School campus with its premises. The school offers classes from pre-primary to A-levels. You can get to Karachi University from Bahria Town within 35 minutes, without traffic, via Karachi-Hyderabad Motorway. It is, however, important to note this route has tolls.
For any health-related assistance, you can visit Bahria Town International Hospital Karachi. It is a 120-bed hospital that provides 24-hour emergency care and trauma facilities. Other services offered here include general surgery, ICU, CCU, radiology, blood bank, laboratory, etc.
Facilities & Security in Bahria Town Karachi
Bahria Town is the state's largest privately owned property group, which offers a vast range of options when it comes to renting or investing in properties. The society features a number of facilities like outdoor pools, gyms, lavish malls, a USGA-standard golf course, a CineGold Plex cinema and Pakistan's first night safari. There are also offices, retail, mosque, recreational facilities, separate car parking for each flat, gymnasium and much more.
Furthermore, the security of Bahria Town Karachi is a class apart. The developers have established a private security system, complete with CCTC cameras, throughout the project and Bahria Town's security personnel keeps patrolling the streets, 24/7, to ensure the safety of residents. There is also a police station within its premises.
Shopping & Restaurants in Bahria Town Karachi
Bahria Town Karachi offers a vast commercial area featuring grand shopping malls and retail outlets where you can buy everyday essentials. Green Valley Premium Hypermarket, Hyatt Regency Hotel etc. are the go-to spots for shopping in the area. Bahria Town's first state-of-the-art business arena, Karachi Trade and Commodities Centre, is also located at a distance of 2 km.
Reasons for Renting in Bahria Town Karachi
Safety comes first when looking for a new home in any city. Fortunately, security is a top priority for the developers of Bahria Town Karachi. However, it's not just the society's security system that sets it apart from other gated communities. Bahria Town has also established its own power generation system that rids you of all load-shedding woes and provides 24/7 uninterrupted electricity supply. The general atmosphere is pleasant, more so because the people are also very friendly here. Tenants, in particular, don't have to worry about dealing with difficult landlords or apartment building owners. Plus, the rental price trend of flats in Bahria Town Karachi, compared to its neighbourhood DHA City and Malir Cantonment, is quite reasonable.