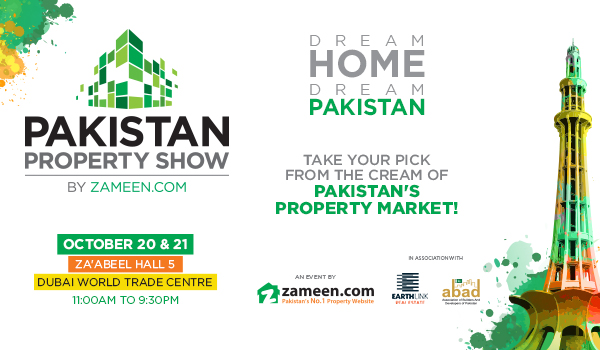 Just a couple of days ago, we told you all the reasons Zameen.com decided to foray into international waters with its first Dubai-based event. Now let me introduce you to a few types of people that should treat this as a must-attend event. This one-of-a-kind show is going to be a dream for overseas Pakistanis. You demanded and we delivered, now let's take a look at what it's all about.
Come if you're looking for safe projects
The Pakistan Property Show is being hosted at the Dubai World Trade Centre on October 20 and 21, and that should tell you something. The biggest names from the world brings their products and services to this venue, and this is the first exclusively Pakistani property event to be held here (yup, we're making history!).
So you can rest assured that the projects we're bringing with us are some of the biggest and brightest. If you're looking for a safe and secure place to build a home, you will find it here. And if you're looking for promising projects with serious returns, we will have something or the other that tickles your fancy.
Come if you're looking for a ton of options
The event is expected to include a diverse set of projects. So whether you're looking for something in Peshawar or trying to get your hands into Gwadar, know that we have you covered. All you have to do is show up to find 50 stalls, which belong to the best agents and developers from the local market. We're bringing you everything from the length and breadth of Pakistan – all under one roof!
Come if you're looking to reduce the hassle
Don't know how to contact the right people? Are you sick of having to schedule property runs to Pakistan during the summers? Have trouble trying to track down reliable sources of information from UAE? We have solved all of those problems and then some.
We're giving you a chance to directly interact with industry heavy weights. What you will find at this event is a hassle-free experience when it comes to looking for, shortlisting and then owing your own property back home.
If you're looking to further reduce the hassle then pre-register here to avoid long queues: https://goo.gl/s6uC2R.
Don't forget: it's happening at Za'abeel Hall 5, from 11:00AM – 9:30PM.
Related News