Islamabad: The Capital Development Authority (CDA) has issued new directives to simplify the property transfer procedure, news sources reported on July 27. The modified procedures involve No-Objection Certifications (NOCs), No-Demand Certificates (NDCs), property transfers to legal heirs, and building safety certificates.
Read: CDA awards contract for development work in Sector I-15/2
Reportedly, the CDA has issued directives to various estate managements working under it to reduce the number of unnecessary steps and expedite resolution of the property-related matters. The following are the details of the streamlined procedure: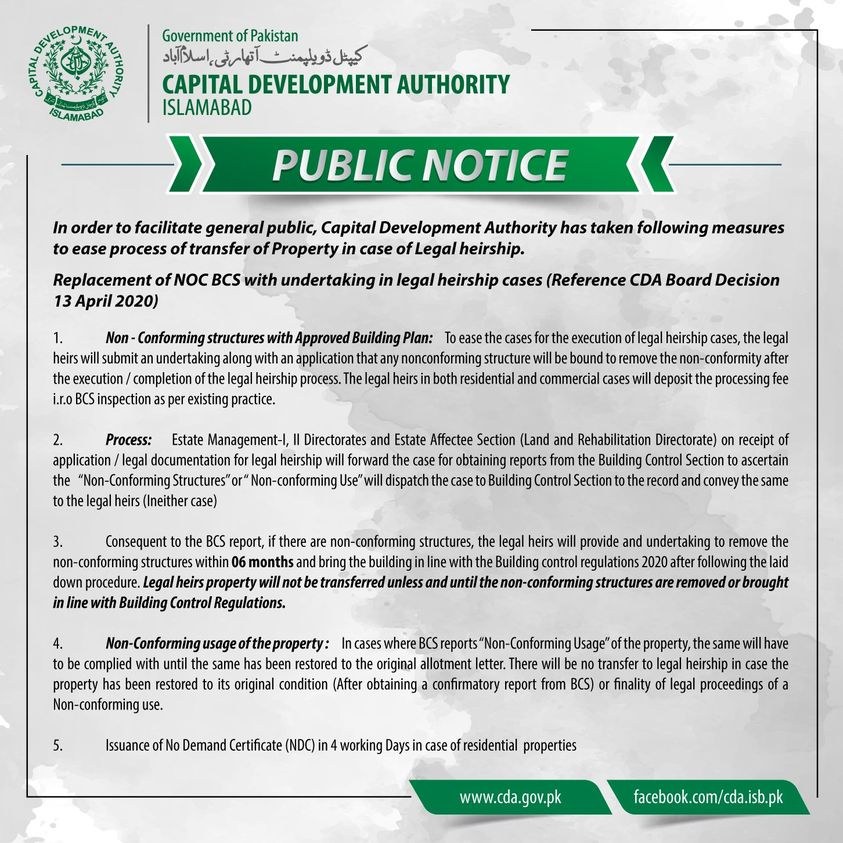 Printing of transfer letters
● Beginning on August 1, Estate Management-1 will print and issue transfer letters of property in a simple two-step process.
● Under the process, after accepting the case, the assistant director of the One-Window Operation Directorate would take a print of the transfer letter and sign, stamp, and emboss it, then pass it over to the transferee on the same day.
Read: CDA to approve building plans in societies with cancelled NOCs
NOC letters for inheritance property
● Beginning from August 1, only an undertaking will be required to transfer property to legal heirs after satisfaction with the legal codes.
● The legal heirs will provide the CDA with an undertaking that they will remove any unlawful structures after the legal heirship procedure is completed.
● Upon receipt of the application/legal documents for legal heirship, the Estate Affectees, Estate Management-I, and Estate Management-II Sections would transfer the case for obtaining reports from the Building Control Directorate (BCD) to assess the infringement of Building Control Regulations 2020.
● In the case of a building code infringement, the legal successor will be given six months to address the specific complaint before the transfer notice is issued.
No-Demand Certificate (NDC)
For the NDC, the following measures will be adopted:
● The issue of a No-Demand Certificate (NDC) for Estate Management-I and Estate Management-II will now take four days.
● In case of a legal complication, the allottee or applicant will promptly be notified as to why the NDC was not provided at their request.
Read: CDA signs MoU to automate property transfer, building plan approval system
It is also worth noting that the CDA and the National Database and Registration Authority (NADRA) have recently inked an agreement to facilitate property transfers and eliminate legal difficulties in property-related affairs.
Related News