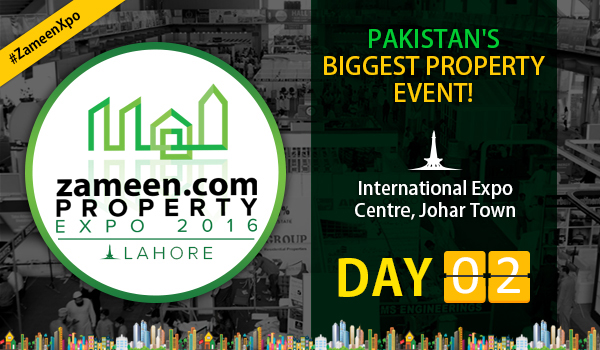 After the successful execution of Day 1, we commenced Day 2 with even more zeal and fervour. The gates to the Expo Centre opened at 10:00 am sharp and visitors were welcomed inside on the misty Sunday morning for a day full of invaluable real estate information and indispensable real estate advice amongst many other activities!
The event kicked off to a rocking beginning as investors began to stream in. The Expo Centre became super busy by mid-day! Let's take you through the eventful and exciting day so those that were here can relive the experience and those that weren't can at least visualise what they missed out on!
Chief Guest
Team Zameen welcomed Mr Saif-ul-Malook Khokhar, Member of the Provincial Assembly, to the event as the esteemed chief guest. He was happily presented a lovely bouqet and was greeted by Zameen.com CEO Zeeshan Ali Khan and other prominent members of Team Zameen. After a short welcoming speech, the chief guest was given a commemorative shield. He then took a tour of the Expo Centre and explored various projects of interest.
Crazy Crowd
The crowd quickly became thicker and visitor traffic became heavy as many from the vibrant city chose to spend their Sunday exploring investment opportunities and having tons of fun! At mid-day, people were energetically exploring various stalls and were deep in conversation with developers, agents, and other representatives regarding the best investment opportunities!
Wheel of Fortune
Spin, spin, and spin until you win! Our Wheel of Fortune was rather popular among the rampant crowd and visitors spun away for exciting prizes! Check out all the hype this activity created in these photos!
Food Magic
Some people eat to live and others live to eat! The crowd at Zameen.com Property Expo 2016 Lahore-December's food stalls was certainly enthusiastic about relishing the various food items on offer. Beginning from starters such as tangy gol gappay to scrumptious cuisines such as spicy biryani and pizza slices oozing with warm cheese, everything was devoured with a fervour!
Visitor Vibes
Our visitors were so ecstatic about the major event that even we were surprised with their level of enthusiasm! With huge jubilant smiles and tons of vigour, they gave us some exceptional reviews of how their day went! Check out what they had to say regarding their expectations of the event and what it offered them!
Khawaja Yasir, who attended the expo to find some high-potential investment opportunities left the event with loads of information. He insisted that such events must be held frequently.
Khalil ur Rehman visited the Expo Centre to explore apartment options up for grabs. He praised the way Zameen.com executed the grand scale event and was able to bring real estate aficionados and families under one roof.
Some people were interested in considering the best options to find property on rent. Majid Qureshi plans to shift from Islamabad to Lahore soon and was particularly interested in finding high-quality residential property within his budget. He said that he regularly receives property alerts from Zameen.com and his visit to the expo was totally worthwhile.
Amongst all others, Noor Anjum was another happy visitor who found all the information he needed for the construction of his lovely new home!
Yippie! Happy visitors always get us excited!
Exhibitor Energy
The happy exhibitors were rather satisfied with the response and were particularly happy to see the real estate sector pumping blood again! Many of them were looking forward to future events already and encouraged the frequency of such occasions!
New Era Real Estate closed three deals on the spot and the agency is hoping to close more through the contacts it has acquired at the expo!
"This platform has provided us with specific clients interested in buying properties in the projects we have displayed here. The government should organise such events, but in its stead, Zameen.com is endeavouring to hold these affairs to provide both agents and investors in the real estate sector with an unrivalled opportunity to discuss business .We are delighted, as we have closed three on-the-spot deals," said Abu Bakar Shahid of  New Era Estate.
Those who could not mature deals on the spot have been promised visits at their offices at some later point in time.
Mohsin Ali of Banu Hashim Estate and Builders seemed really excited about the fervour of the second day and said that many visitors have promised a visit to his office to finalise the deals discussed at the expo. He also added that such events must be held frequently, as they play a vital role in increasing market awareness and making people cognizant of the latest market trends.
Saleem Ishtiaque of Arhum Real Estate & Builders was all smiles. While conversing with an official of Zameen.com about the activities of Day 2, he said: "We have witnessed an incredible response from discerning property buyers at the expo. Out of all the people who have visited our stall, we believe that 50% of them will close deals with us in the days to come."
As the visitor footfall multiplied on Day 2, this gave a boost of energy to exhibitors."The number of visitors spiked astonishingly after 2pm. People came looking for investment opportunities at our stall and promised to meet us again at our office," said Shahzaib Warraich of Mansha's Real Estate & Builders.
Witnessing an exciting response from visitors, exhibitors of the Zameen.com Property Expo 2016 Lahore (December) anticipated deals of millions coming their way. "Through the contacts I have been able to develop at the expo, I expect to mature deals worth PKR 2 to 3 million in the coming days. Zameen.com has provided us with a grand opportunity to market our services to a wider audience," said Sajid Mayo of Moj Estate.
Considering the excellent response and huge visitor footfall on Day 2, Shahid Subhan of Al-Karam Associates hoped to close 12 to 15 deals as a result of discussions held at the expo and because of the exposure the event provided!
We wholeheartedly thank all of our exhibitors for their enthusiasm as this event would not have been possible without them!
Jewelry, Handicrafts, and More
The Zameen.com Property Expo 2016 Lahore was not all about real estate, as we also had a few stalls to ensure visitors enjoyed a tinkle of diversity by visiting our jewelry, handicrafts, and crockery exhibitors. These exhibitors also enjoyed magnanimous business and were really happy with the outcome of the event!
iBooth
Visitors were eager to be pictured at the iBooth with interesting backgrounds! This activity never gets old and there are always a large  number of people in line to get themselves photographed! Say cheese!
Lucky Draw
As the perfect end to a day pulsating with energy, the lucky draw awarded winners awesome prizes! The lucky winners were given smartphones, power banks, televisions, microwave ovens, and several other absolutely amazing prizes which they were delighted to receive! Take a look at their happy smiles as they eagerly anticipate the prize distribution!
Whew! What a day and what an absolutely fabulous event! We are super satisfied with what we pulled off and the happiness and excitement we were able to see on our exhibitors and visitors faces!
Until next time guys!
Related News