Lahore: The Defence Housing Authority (DHA) Lahore has issued an important notice to all its allottees of ballots held between 2010 and 2020 to settle their unpaid dues or their plots would be cancelled, an official announcement was made on the DHA's Facebook page.
Read: DHA Lahore announces possession of plots in Phase 9 'Prism'
The deadline for paying their outstanding liabilities is June 30.  According to the notice, the DHA Lahore has informed all allottees of commercial and residential plots to pay their debts in order to avoid any inconvenience. The following information was communicated by the notification: 
All allottees of ballots held between 2010 and 2020 for commercial and residential plots in all phases of DHA Lahore are advised to deposit their outstanding dues by June 30, 2022, to avoid plot cancellation, as each such allottee has been properly informed of this fact through official channels and communique. 
In the event that late payments are not cleared within the due period, DHA management has the right, in accordance with the "Terms and Conditions of Allotment" laid out at the time of purchase of such plots, to cancel the allotments and reimburse the paid dues after the required deductions.
The public notices must be regarded as official DHA communication on the subject. If such allottees do not respond to this notice, the DHA will revoke their allocation.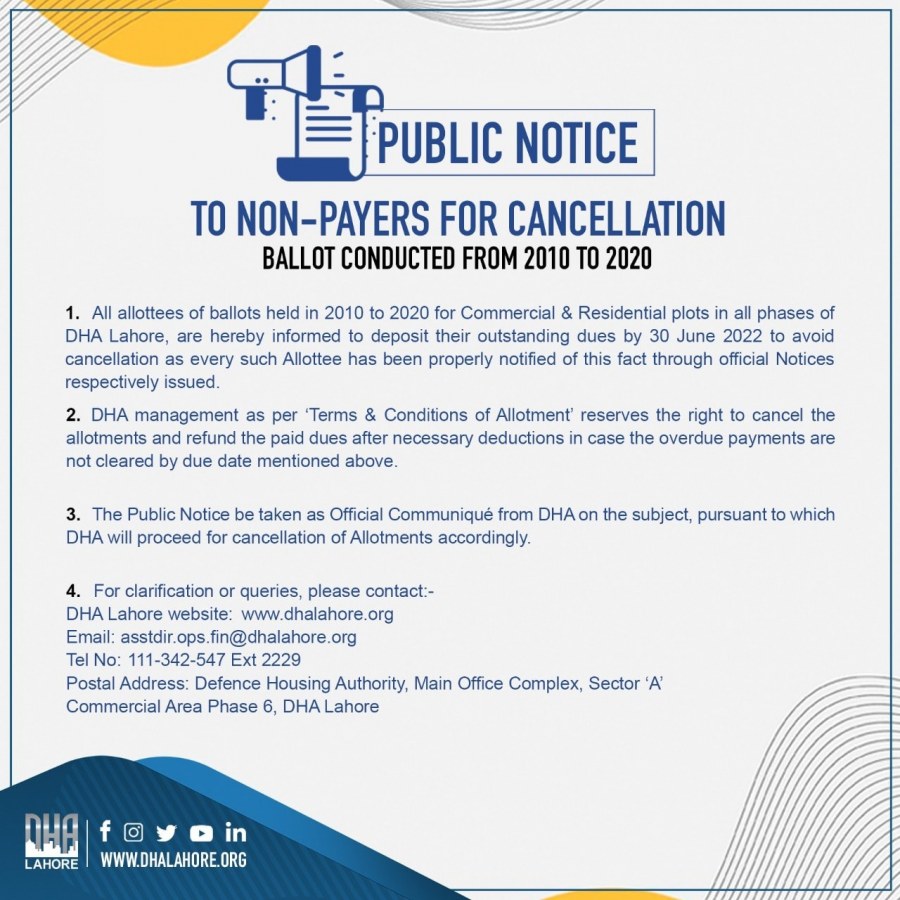 Read: DHA Lahore opens possession in Prism 9, Phase 9 Town, Phase VI
The DHA Lahore has asked its members and allottees to contact the following numbers and websites with any inquiries or concerns. Members can access the website at https://www.dhalahore.org or send an email to: assrdir.ops.fin@dhalahore.org. Alternatively, call 111-342-547, Ext 2229. Furthermore, individuals can write to or visit the Defence Housing Authority (DHA) Main Office Complex, Sector-A, Commercial Area Phase 6. Lahore DHA.
Related News