Islamabad: The Federal Board of Revenue (FBR) has advised citizens to file their income tax returns as soon as possible without waiting for the deadline, reads the advertisements in the leading newspapers. The deadline for submitting income taxes is scheduled for September 30, with no extension expected.
Read: FBR tax collection at historic high, crosses PKR 4 trillion
According to the advertised announcement, the FBR would give a 100% exemption from the withholding tax rate if income tax returns are filed by the due date. According to FBR regulations, the following people/individuals must submit income tax returns for the fiscal Year (FY) 2022-23: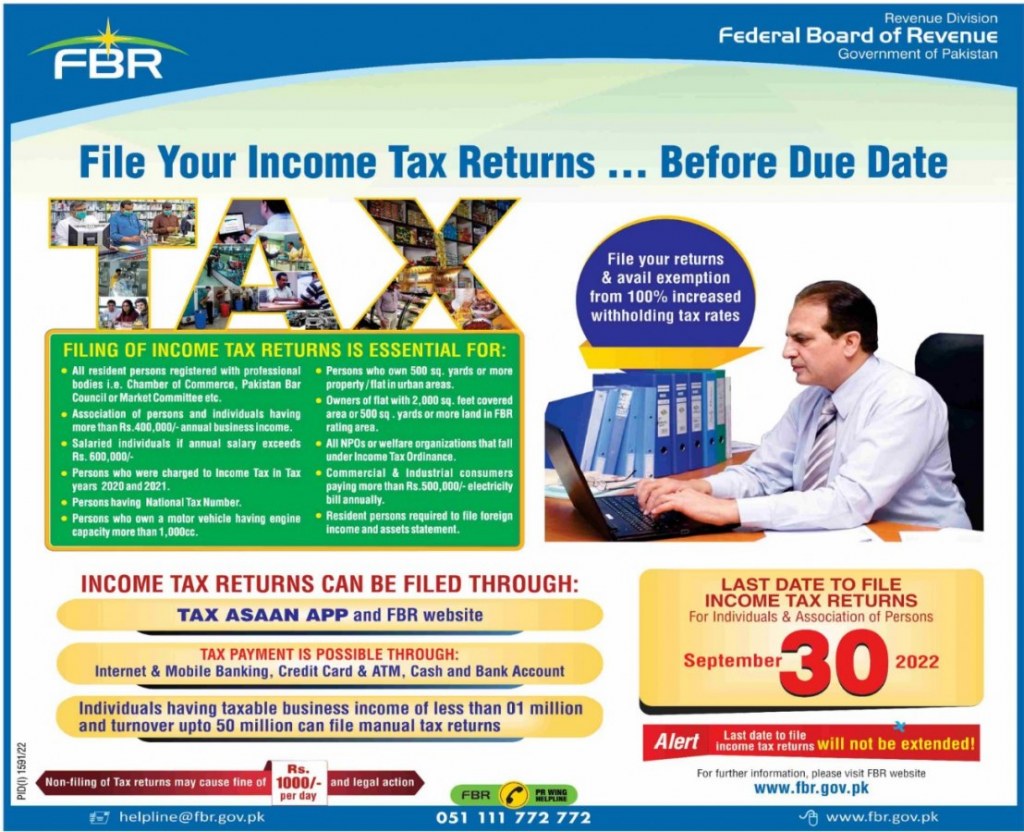 All resident persons registered with professional bodies, i.e Chambers of Commerce, Pakistan Bar Council, or market committees
Association of persons and individuals having more than PKR 400,000 in annual business income
Salaried individuals whose annual income exceeds PKR 600,000
People who were charged with income tax in the tax years 2020 and 2021
Persons having a national tax number (NTN)
Persons who own a motor vehicle having an engine capacity of more than 1,000 CC
Persons who own 500 sq yds or more property/flat in urban areas
Read: Simplified FBR tax form for retailers introduced
Owners of flats with 2,000 sq yds of the covered area or 500 sq yds or more of land in FBR rating areas
All Non-profit Organisations (NPOs) or welfare organisations that fall under the Income Tax Ordinance (ITO)
Commercial and industrial consumers paying more than PKR 500,000 in terms of electricity bills annually
Resident persons who are required to file foreign income and asset statement
Read: Vehari Industrial Zone: Investors offered ten yrs tax exemption
People who fall into the aforementioned categories can file taxes via the Tax Asaan Application and the FBR website.
Furthermore, all the people and organisations listed above can pay their income taxes through online and mobile banking, credit cards and ATMs, cash, and bank accounts. Failure to file tax returns would result in PKR 1,000 fine per day and legal action.
Related News