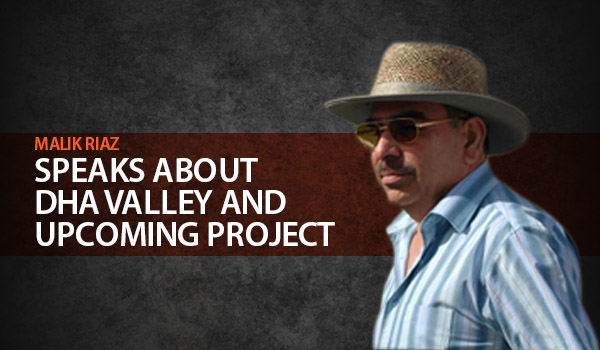 We all know Malik Riaz as the magnate and philanthropist who formed Bahria Town and proved his mettle by setting state-of-the-art development standards. Well, enough with the introduction … without further ado, let's start our topic of discussion.
Malik Riaz's official twitter page, linked to the Bahria Town website, contains a lot of important announcements. Today, I am going to share all these with you in this post.
Riaz's take on DHA Valley
DHA Valley was launched 15 years ago and is still under developed due to a host of issues, the primary one being Daducha Dam, which has become a bone of contention between the government and the executing firm, Bahria Town. Investor confidence has been greatly affected because of the current scenario.
Anyway, Riaz seems really hopeful about the project. He recently tweeted that property prices in DHA Valley have increased by 30 to 40 percent.
In another tweet, Riaz admitted that Daducha Dam's issue is pending with the Punjab government and requested the government to make an immediate decision.
Through this social media forum, he also assured followers that Defence Housing Authority (DHA), Habib Rafiq (Pvt) Ltd and Bahria Town are all making a great effort to complete the joint ventures that are DHA Valley and DHA Islamabad Phase II (extension).
Furthermore, DHA Valley affectees were offered alternate plots in Bahria Town Rawalpindi and Bahria Town Karachi. However, I don't think people have welcomed this very move warmly.
What about Bahria Town Peshawar?
Riaz unveiled the plan to launch a project in Peshawar in one of his tweets. On November 26, he said the project would be launched within 60 days, but no additional information was shared.
DHA recently launched DHA Peshawar. It seems like the property tycoon is trying to compete with DHA in Peshawar. However, before we start making assumptions about this project at this point, let's wait for more details to emerge.
Vague tweets
Riaz said Bahria Town is well aware of queries related to other projects and assured followers than an 'announcement' will be made in the next few days. We have no clue what Riaz is referring to here – perhaps it's the litigation issues in Bahria Town Lahore or the proposed development of the Lahore Ring Road (LRR). Again, it's totally pointless to make any assumptions right now.
Nevertheless, these tweets should provide a ray of hope to all those concerned with Bahria Town's projects and DHA Valley. I personally believe that Riaz is taking the heat for DHA Valley and wants to execute it as soon as possible because this scheme is affecting his real estate business.
So let's just wait and see what happens. We can discuss Riaz's tweets further in the comments section below. And yes, please feel free to converse with me if you have any queries about DHA Valley or other projects.
Related News
Zain Nadeem is a Deputy Editor at Zameen Media (Pvt) Ltd. You can also find and follow him on
Google+