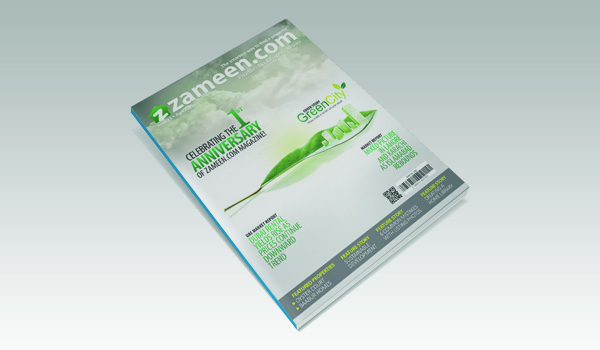 Zameen.com Magazine, Pakistan's favourite monthly real estate publication, has completed an entire year. The Anniversary Edition of Zameen.com Magazine is out and available at all major bookstores as well by subscription.
The magazine, which started as a 60-page publication in April 2014, was the first publication of its kind in Pakistan. It has today become a full-fledged 72-page monthly that covers the real estate market of Pakistan from a range of angles, and is widely considered the authoritative publication in this field.
The awesome one-year journey was an experience and a half, since for an online real estate portal venturing into the publication sector was a challenge in and of itself. With constant support generated by seamless collaboration between all departments, vigilant monitoring and sheer hard work that demanded unshakable focus, Zameen.com Magazine has today become a proud product of the portal.
The real estate developers, estate agents and property sellers of Pakistan who have been utilising the matchless services of Zameen.com had no trouble seeing the benefits of getting on board with the extensive promotion and coverage the magazine promises. For the end-users, the magazine has brought forth a reliable avenue that keeps them informed about where the real estate sector of Pakistan is headed.
Zameen.com Magazine gives extensive coverage to existing and upcoming real estate developments and exclusively covers real estate news in six dedicated pages. Well-known real estate agents from major cities of Pakistan are also interviewed regularly in the magazine, which helps the readers get inside details that are otherwise not easily available. The magazine also features detailed monthly market reports.
Keeping in view its target audience, Zameen.com Magazine also offers articles covering a wide range of subjects such as sustainable lifestyle, home décor and fitting and finishing options, etc.
If you, too, wish to know Pakistan's real estate sector as well as Zameen.com does, you need to subscribe to the magazine right away. To do so, just visit our subscription page and order your copy today!
Related News