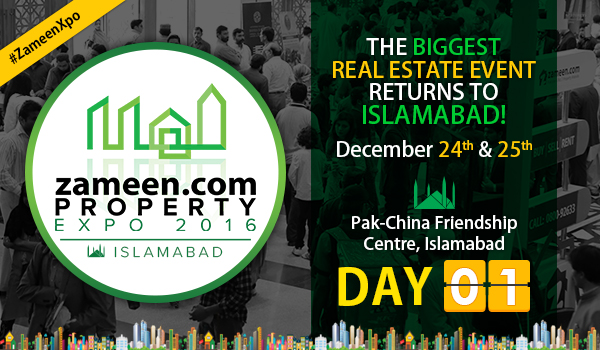 Tick tock tick tock…The clock said that it is 10'o clock and the Zameen.com Property Expo 2016 Islamabad started reverberating with sound and activity right from the get-go! Visitors began to stream into the Pak-China Friendship Centre on the slightly chilly Saturday morning, ready to explore the most amazing investment opportunities, enjoy scrumptious food and other fun activities.
Let's go through the highlights of the day!
Highlights
As visitors entered the Pak-China Friendship Centre, they made sure they stopped at Zameen.com's stall for insight into what the portal is offering and how they can benefit from it! Of course, Team Zameen remained busy all day attending to a host of visitors!
Many VIP personalities graced the event with their presence. Member of Provincial Assembly Malik Iftikhar inaugurated the stall of Zeeshan Estate Management and Builders, our honourable Diamond sponsor.

The Deputy Mayor of Islamabad Syed Zeeshan Ali Naqvi also visited the Pak-China Friendship Centre and met many exhibitors.
We told you that it would be a family event and we meant it! Visitors filed in with their whole families and were all smiles as they enjoyed the expo!  We really did not even need to ask as their excitement was more than evident!
Many visitors tried their luck at the Wheel of Fortune and won exciting prizes!
There was also an acrobat who showed off his smooth moves and entertained the crowd!
We can't say enough about the clowns and the smiles they put on our visitors' faces!
Exhibitors in the house
Even our exhibitors were excited to pose in our famous house-shaped photo frame. And obviously, we appreciate their bright smiles!
Extra Happy Exhibitors
Do you want to know what our exhibitors exclaimed when we stopped to converse with them? Read on to find out!
Iqbal Hussain Mughal of Cantt Master came all the way from Peshawar to Islamabad to catch property fever.
"I have exhibited at the Zameen.com Property Expo for the first time and Team Zameen's cooperation has overwhelmed me. The event has provided me an opportunity to meet many clients. More than eight investors have shown a commitment to purchase property in DHA Peshawar through me. I also plan to exhibit at the Zameen.com Property Expo Karachi 2017," said Mughal.

Muhammad Sajjad Hussain of Current Age showcased Park Enclave II, a project of the Capital Development Authority, at the expo and witnessed an excellent response from visitors. "Park Enclave I is 90% developed and four to five houses are also under construction there. People are interested in investing in Park Enclave II as well, where the price of 1-kanal plots ranges between PKR 21,000,000 and PKR 26,000,000," said Hussain. "I also exhibited at the last expo held by Zameen.com in Islamabad and just like the previous event, the response at this expo is splendid."

When we say that our expos offer something for everyone, we mean it! The December edition of the Zameen.com Property Expo 2016 Islamabad showcased real estate options not only for investors, but also for genuine buyers.
Among other exhibitors offering stupendous property options on instalments for genuine buyers, Swiss Property Investment offered double-storey villas on easy instalments spanning eight quarters in Hill View Green Villas, Bahria Enclave, Islamabad. Zeeshan Hayat of Swiss Property Investment seemed quite happy at the expo, as many people promised to visit his villas and purchase them.

Gwadar's real estate sector is the centre of attention among potential investors these days. Many visitors of the Zameen.com Property Expo 2016 Islamabad took great interest in Gwadar properties showcased at the event. Muhammad Ashraf of ReMark Real Estate & Marketing even closed three deals on Day 1 for properties in Akbar Industrial Park, Gwadar.

Exhibitors of the event also praised the immense footfall of visitors on Day 1. "Though people are afraid of the newly imposed taxes, visitor response at the event is commendable. People have come here to get information about the real estate sector. I believe property prices will increase sooner rather than later," said Zeeshan Qureshi of Zeeshan Estate Management & Builders.
Foodies
While our visitors  were interested in real estate, they were also passionate about food! Cone Heads served freshly fried french fries oozing with delicious sauces, KFC offered their regular delicious meals, and Student Pizza served those that were craving for cheesy pizza and freshly prepared pulao! Tea, coffee, and soup were also available for those that wanted to keep warm while exploring all that the event had to offer!
Cheerful Children
The world is a bliss for children and although they are not old enough  to invest in real estate yet, that doesn't mean there was no place for them at the event! Children remained gleefully happy at the jumping castle and had as much fun as the adults did!
Day 1 of the Zameen.com Property Expo 2016 Islamabad definitely exceeded our expectations and amidst all the property talk, we also had tons of fun!
Ready for a bigger and more boisterous Day 2? So are we!
Related News