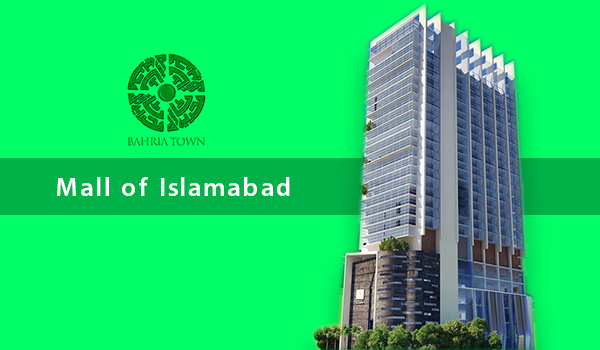 Bahria Town has proved its mettle time and time again by introducing international development standards in the country. Amid all the controversies – which we request Bahria Town to address on a priority basis – another mixed-use project named Mall of Islamabad has been launched.
Mall of Islamabad boasts an excellent address on Jinnah Avenue. The Islamabad Stock Exchange and Saudi Pak Tower are nearby, as is the Jinnah Super Market. Moreover, the project offers picturesque views of Margalla Hills. Please see the image below to have a better idea of the location.
Now let's move on to other features of the mall.
As mentioned in the opening paragraph, Mall of Islamabad is a mixed-use project; it features retail shops for local and international brands, corporate offices to satiate the appetite of those on lookout for high-end office space with an excellent address, and 1-, 2-, and 3-bedroom apartments that offer a unique lifestyle.
Rates
Though Bahria Town has promulgated the project through TV commercials as well as adverts in newspapers, details about property rates have not been disclosed in any marketing material. But a Bahria Town official told Zameen.com that retail shops are available for PKR 80,000 to PKR 120,000 per square foot depending on the location. If you want to own an office space in the building, you will have to pay PKR 30,000 per square foot. And for residential apartments, the cost is PKR 25,000 per square foot.
Booking
Booking is already open on first-come, first-served basis. If you are interested in the project, you need to make the move now. Bahria Town allows you to choose your shop, office or apartment from the layout plan of the project. See the floor plans below:
Remember, you will have to pay 14% of the total cost of the property at the time of booking, while the remaining amount will have to be paid in instalments spread over 3 years.
Development work
According to the Bahria Town official, development work has already commenced. Yet, he could not give us the date of completion.
As the project's instalment plan spans 3 years, we can subtly assume that it will be completed within the same time period. However, this is just a guestimate, as Bahria Town has not announced the completion date officially.
The developer has already marked the site, as you can see in the image below:
Sister mall in Lahore
Mall of Lahore is the developer's state-of-the-art, mixed-purpose building located on Aziz Bhatti Road in Lahore. The building is undeniably high-end and houses famous shopping brands and food franchises. Mall of Islamabad will probably be of the same type or maybe more high-end. Let's wait and see!
Before we get too excited, we need to reiterate again that Bahria Town needs to resolve the issues plaguing its old projects.
So what will the developer launch next? Mall of Karachi? Again, only time will tell!
Note: Images of layout plans have been taken from Mall of Islamabad's official website.
Related News
A Russian developer has launched a multi billion dollar property development on the northern outskirts …