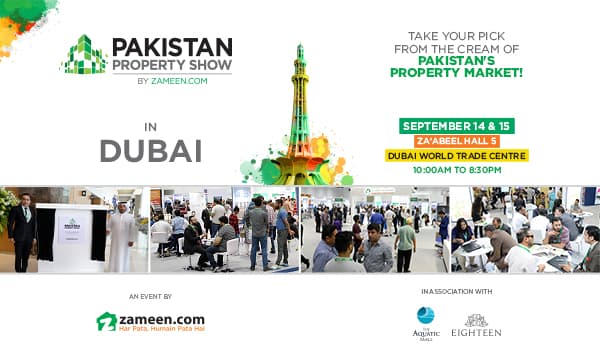 The biggest international exhibition of Pakistani real estate is coming back in just ten days. Yes, Pakistan Property Show Dubai is happening again! We are returning to the UAE with an even larger event than the wildly successful one last year, so join us at Za'abeel Hall 5, Dubai World Trade Centre (DWTC) on the 14th and 15th of September.
Last year, over 14,000 visitors explored amazing property options with us and availed a multitude of wonderful deals from 50-plus exhibitors. Going beyond even the massive success of last year, in the upcoming show we will be hosting over 60 exhibitors featuring top projects and real estate options from all over Pakistan, whether it be Lahore, Karachi, Islamabad, Gujranwala, Multan or Gwadar, and many more.
Most of our visitors last year were overseas Pakistanis based in the UAE and other Gulf countries. These expatriates form a significant part of the property market in Pakistan, and it is for them that we started this show back in 2017. In fact, nearly a third of our traffic comes from overseas Pakistanis, with the ones settled in Gulf countries leading the charge. Take a look at just how popular our event was last year:
Over the years, Pakistan has been an important economic region due to CPEC, and has become a point of focus globally. In addition, the past two months have seen an optimistic attitude regarding the country's development, especially among overseas Pakistanis. So, the time is ripe to invest in some of the best projects in the country, which have high potential for profits.
If you live in the UAE and nearby countries and want to check out property in Pakistan, we have the perfect event for you.
So, drop by Za'abeel Hall 5, DWTC, on September 14 and 15 for an unforgettable property experience. We look forward to seeing you there, and being part of taking real estate in Pakistan to new heights.
Entry to the event is absolutely free for everyone, and you can pre-register for a smoother, faster experience at your convenience, online.
Related News