Haripur: Additional Deputy Commissioner Finance and Planning Tabina Tariq on Sunday (March 6) shared the details on the progress of five monuments being constructed in different parts of Haripur city to enhance its beauty, according to a news story published on Monday (March 7). 
Read: KP to establish STZs in Swat, Mardan, Haripur, Peshawar
As per the details, out of the total, two monuments have been completed whereas work on three others is in progress. The deputy commissioner disclosed that the construction work is scheduled to be completed within the next few months.
Reportedly, after the approval of the beautification plan from the provincial government, private firms were shortlisted through the e-tendering process. It was decided that five monuments will be constructed at the cost of PKR 30 million at the main points in the city including Zero Point of the Bypass Road, Shah Maqsood roundabout, Chappar road, Chechiyan Interchange of Hazara Motorway, and Darwesh Chowk. So far, monuments at Darwesh Chowk and Shah Maqsood roundabout are completed. 
Read: Groundbreaking ceremony held to set up industrial units in Hattar, Haripur
Sharing details about the monuments, an official disclosed that the theme of the Shah Maqsood monument was inspired by the name of Allah, while the theme of Chappar Road was included Tarbela Lake and boat indicating activity of boating. The theme of Darwesh Chowk's monument was 'love for education'.
Related News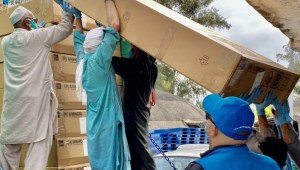 Faisalabad: Punjab government has given approval for more than 7,000 patwaris to be promoted to …