Rawalpindi: The Rawalpindi Development Authority (RDA) has launched a public awareness campaign for the peri-urban structure plan and side development zone, news sources reported on January 12
Read: Only state-run firms can compete for Kutchery Chowk remodelling contract: RDA
In this regard, a meeting was held in the Tehsil Office of Gujjar Khan where the authorities took the decision to sensitize the citizens regarding the upcoming infrastructure projects and the ways the plan will be responsible for the administrative and land-use-related changes. During the meeting, project consultant Mott Macdonald Pakistan (MMP) Company, presented the ideas for the peri-urban structure plan and side development zone in detail.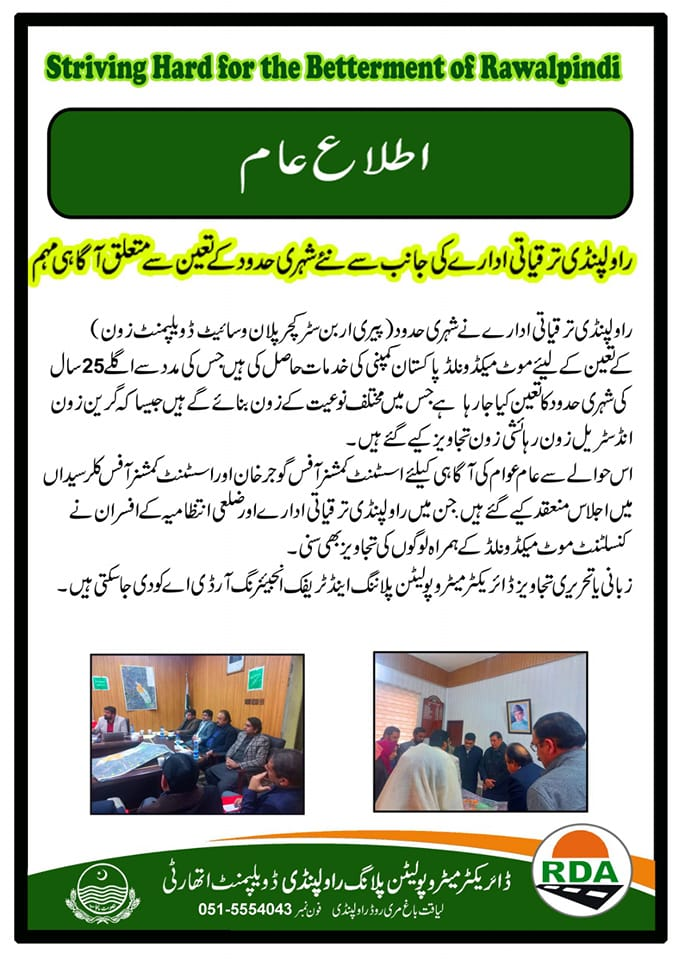 The attendees at the meeting were informed of the new urban boundaries and regulations will manage the city boundaries for the next 25 years. Under the plan, the city's peri-urban regions will be divided into three zones:
Green Zone
Industrial Zone (for all small and large industries)
Residential Zone (for the general infrastructure development)
Read: RDA approves peri-urban structure for Gujar Khan, Kallar Syedan
The director urged that the officials responsible for administrative matters in the district's tehsils should also be informed about the peri-urban structure plan and side development zone. He also said that similar awareness meetings would also be organized in the other tehsils of the district.
Related News