The management of TopCity-1 recently imposed additional charges on plot-owners, which has spurred confusion and agitation among them because they now have to pay an additional Rs 300,000 on 10-marla plots and Rs 500,000 on 1-kanal plots under the banner of development charges. But there is a catch here: the charges are required to be paid in instalments.
In order to learn details of the additional charges, Zameen.com contacted the TopCity-1 management and learned that the extra charges were being sought because the developer was offering trailblazing facilities in the locality.
According to the management, TopCity-1 will offer a Liquefied Petroleum Gas (LPG) bottling system, under which the developer will provide uninterrupted gas supply. LPG cylinders will be installed outside the houses and will be filled through an automated system.
Furthermore, the developer is in the process of setting up a grid station, through which it will ensure round-the-clock electricity supply to the residents.
We also learned that the TopCity-1 management had signed a memorandum with the Pakistan Telecommunication Company Limited (PTCL) to turn TopCity-1 into a smart city where high-speed internet and many other facilities would be available.
So, these are probably the major reasons behind the imposition of the additional development charges.
When we enquired about the development of the link road from TopCity-1 to New Islamabad International Airport, we were told that the National Highway Authority (NHA) had floated tenders for the project, after which it was awarded to the Frontier Works Organisation (FWO).
The map below will provide you a fair idea of the 'Main Link' road from TopCity-1 to the airport:
Possession
We have also learned that the developer is set to start handing over possession in the locality from August 2015. This is good news for the plot-owners, as after possession the property prices will most likely increase there.
Development
Development work is being carried out in the locality at a good pace. Roads are being carpeted, an underground water reservoir with the capacity to store 150,000 gallons of water has been built, and best of all, a masjid was recently opened in Block B.
Recently an Iftaar party was also organised by the developer, to which the registered agents of the society were invited. I have collected some images for you to have a glimpse of the locality: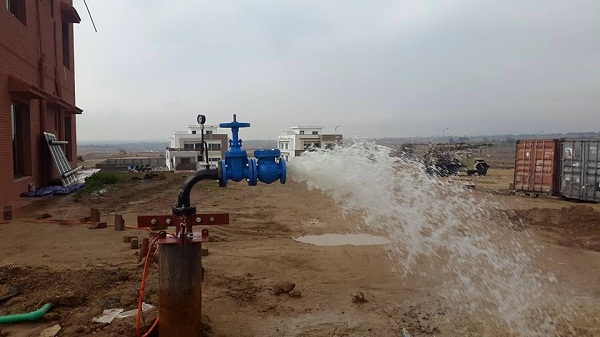 I understand that the imposition of additional development charges is annoying for the plot-owners, but they should also understand that TopCity-1 is set to provide its residents many state-of-the-art facilities.
What do you think? Please feel free to share your views in the comments section below.
Related News