Karachi: The Sindh Building Control Authority (SBCA) has announced the launch of a strict crackdown to demolish illegal constructions and dangerous buildings in all regions of Sindh, according to a notice published in national dailies on September 21.
Read: Karachi's Orange Line BRT opens to public
As per the warning issued by SBCA, anyone involved in the construction of structures without an approved building plan or in violation of approved plans will be punishable with three years of imprisonment and a fine of PKR 50,000 or both. Moreover, people found involved in fraudulent sale/purchase of such constructions and advertisement campaigns involving illegal construction will also be held accountable by law.
It was also highlighted that provision of utility connections is subject to the approval of the completion plan issued by SBCA. Without the authority's approval, no relevant agency is permitted to provide power, gas and water connections to any building developments. To this effect, utility departments are obligated to disconnect the illegal connection of all structures falling within this category and deny cases still in office. 
Read: SBCA given 4 weeks for demolition of illegal wedding halls on Korangi Road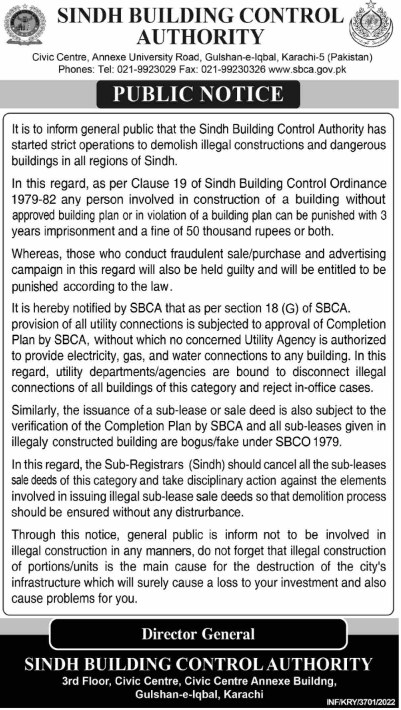 Read: SBCA ordered to file cases against developers of illegally constructed buildings
Furthermore, the issuance of a sublease or sale deed is also subjected to the verification of the completion plan issued by SBCA and all sub-lease given in illegally-developed buildings will be deemed fake. In this regard, Sub-Registrars in Sindh are asked to cancel all the fake sub-leases and sales deeds of the aforementioned category and initiate disciplinary action against those involved. The authority iterated that illegal developments are the main cause of the destruction of the city's infrastructure, causing loss of investment and other problems for citizens.
Related News
LAHORE - The Lahore Development Authority (LDA) has initiated land audit of all the approved …