Bahawalpur: The Defence Housing Authority (DHA) Bahawalpur administration has extended the deadline for application submission of residential and commercial plots on easy instalments, according to a post shared on the authority's Facebook page.
Read: DHA Bahawalpur's form submission for residential, commercial plots ends in 3 days
As per the details, the management has extended the deadline by 4 days for customers who have already downloaded the form but were not able to submit it because the website was down. These members can pay the fees and submit the forms by November 19 in the banks or deliver it to the postal address of DHA Bahawalpur.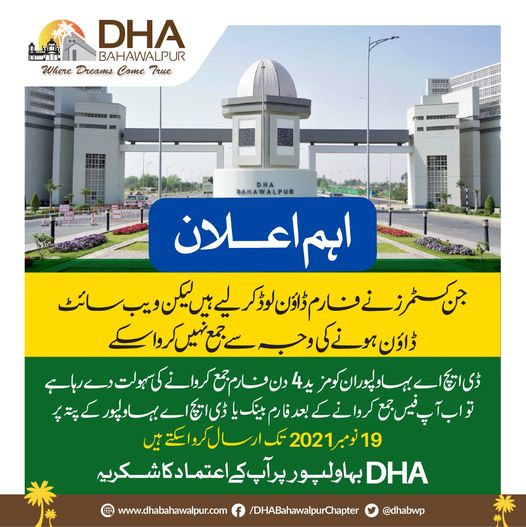 Read: DHA Bahawalpur, Zong signs MoU for 4G coverage
It is pertinent to note that the last form submission date was November 15 for residential plots in 5, 8, and 10-marla and 1-kanal plot cuts and commercial plots in 2 and 5-marla plots sizes. The plots were launched in October on a 3-year payment plan and special discounts were also offered for the members. DHA Bahawalpur is offering people this great opportunity to invest in a thriving community.
Related News