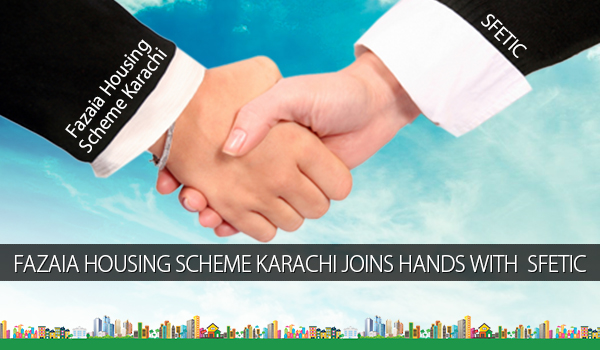 Maintaining its legacy of extraordinary development, and the promise to deliver the unmatchable, Fazaia Housing Scheme Karachi has achieved another milestone. To ensure unprecedented quality of work, Fazaia Housing Scheme Karachi, has recently signed a project development and construction contract with Shaanxi Foreign Economic & Trade Industrial Group Co Ltd (SFETIC) of China. The contract could prove to be a turning point for Pakistani construction industry, providing remarkable results for the stakeholders  of Fazaia Housing Scheme Karachi.
Well known across the globe due to its extraordinary quality of work, SFETIC also had the honour of being ranked No. 4 on the list of Top 100 Competitive Enterprises in China. The accolade was granted by the Chinese Construction Enterprises Management Association in 2015, and signifies the remarkable position achieved by SFETIC in the construction industry.
It is worth mentioning that SFETIC is known for its high quality and speedy developmental work in the province of Shaanxi, other provinces of China and all across the globe. Currently involved in more than 60 construction projects across the globe, SFETIC has accomplished numerous enormous projects, with one of them spread over 32 million sq. ft. that was completed within only two years.
Fazaia Housing Scheme Karachi has already gained the trust and confidence of its customers with continuous advancement and evolvement. The recent contract is sure to come as a pleasant surprise for customers, allowing Fazaia Housing Scheme Karachi to outshine all expectations of speedy progress while ensuring exceptional quality.
Related News