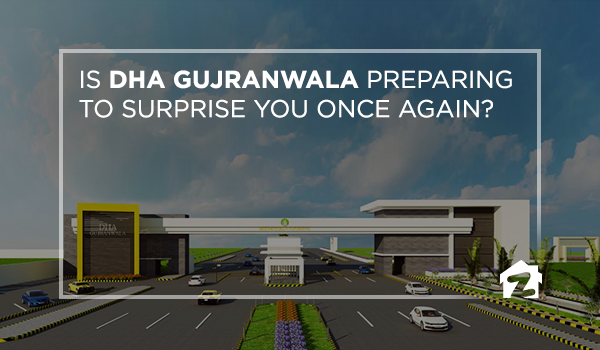 The Defence Housing Authority (DHA) Gujranwala has turned out to be one of the most popular DHA projects during the first half of 2018. The society managed to pull investors from other DHA projects where immediate returns on investment weren't expected.
So, just when almost all real estate developments, particularly in Gujranwala and generally all over the country, suffered a blow due to low investment volume, demand for DHA Gujranwala 5-marla plots and 10-marla and 1-kanal plot files continued to exist. Even right now when all of us eagerly await to see the results of the General Elections taking place this month, something big expected in DHA Gujranwala keeps property enthusiasts on the edge.
Latest development
The entry gate of DHA Gujranwala was installed in the recent past, giving people exact information on the society's main entry point. The latest development is that DHA has purchased a piece of land measuring well over 70 acres on Main GT Road, allowing the society to claim a bigger front on this major road avenue. The news has been confirmed by reliable sources, who also claim that further land acquisition for the project is also underway. In addition, the society is now almost ready to formally announce its Phase I.
Market trends and demand
With many active buyers taking a breather before the upcoming elections in the country, a slight drop in demand has also been witnessed by the investors. In fact, it would be rather accurate to say that the investors have decided to hold on to their investment in DHA Gujranwala for the time being as they believe that some major development is to take buyers by surprise in the next few months. In the meanwhile, a gradual yet minor drop is seen in the rates of plot files and premium on 5-marla plots offered on instalments.
Many expect that all of it is to change soon!
Investors' anticipations
Almost all agents operating in DHA Gujranwala expect to see some major development to take place soon, where the development could once turn heads of investors all around the globe. DHA is known for its confidentiality, so nothing can be certain unless announced by the developer himself.
Many agents believe that DHA may soon launch 10-marla and 1-kanal plots on an instalment plan. This could also mark formal initiation of development work in its Phase I. This explains why the number of files offered for resale in the market is going down.
A look at market rates
Property rates touched their peak value soon after the launch of 5-marla plots on an instalment plan. With current rates lower by 4% than their peak value, the time appears ripe for investment once again. This is based on anticipation of any major moves DHA Gujranwala is expected to make during the next couple of months.
As of July 4, 2018, the premium on 5-marla plots ranges between PKR 350,000 and PKR 370,000. Given under are the price ranges of 10-marla and 1-kanal affidavit files:
| | |
| --- | --- |
| Size | Price Range in PKR |
| 10-Marla | 3,150,000 – 3,200,000 |
| 1-Kanal | 4,650,000 – 4,700,000 |
If you have also been looking to invest in DHA Gujranwala, now is the time.
If you have any feedback or queries, share them with us by leaving a comment below.
Related News
Samra Zulfiqar is a Real Estate Analyst at Zameen Media (Pvt) Ltd. You can also find and follow her on
Google+
.