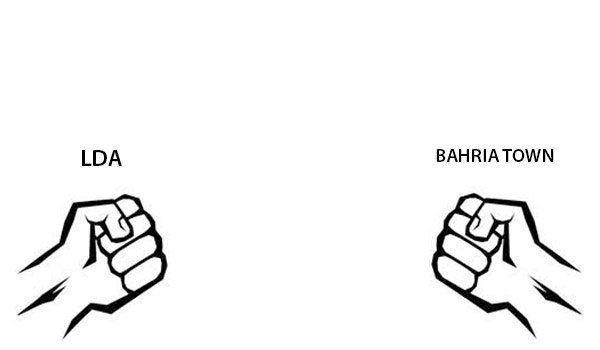 Rampant urbanisation has already transformed Lahore into a modern metropolitan and Bahria Town deserves a good amount of credit in this regard. The developer has launched housing projects that are not only high-end, but have also set benchmarks for other residential developments in the city.
The developer has been facing various controversies for a few months now, but remains quite confident about its performance, which is the reason why it does not pay much heed to any rumours and allegations hurled at it.
Recently, the Lahore Development Authority (LDA) – which has a number of housing projects to its name as well as a good amount of controversies – forbade the public from buying properties in Sectors D, E, F and Phase II of Bahria Town. In an online flyer published on its website, the LDA stated that Sectors D and E have not been approved by any competent authority. The same allegation has been made for Sector F, but with an additional claim: apparently, this sector is being marketed illegally through media advertisements. Bahria Orchard's Phase II has also been hit hard in the same manner.
The online flyer hints at Clause 18(2) of the Private Housing Schemes & Land Subdivision Rules 2010, according to which properties in any project cannot be advertised before the housing scheme has been approved by the authorities concerned. Moreover, under Clause 40 of the LDA Act 1975, the civic authority is authorised to demolish illegal developments.
The LDA has warned prospective buyers to stay away from the projects in question and has clarified that the authority cannot and will not be held responsible for any losses that may occur.
Bahria Town's Sector F is already a bone of contention between Bahria Town and property owners, who claim that the developer has failed to hand over possession well past the expected time. Furthermore, Lahore Ring Road's southern loop, which is expected to cut through Bahria Town, is also a cause for lasting concern. Simply put, Bahria Town is facing a number of controversies. If left unattended, these can impair the developer's goodwill and also shift investor focus.
Now let's talk a little about the LDA. The authority has indeed made big claims, which will probably cause an immediate price drop in Bahria Town. But should the authority be pointing at issues in other societies when its own LDA Avenue I on Raiwind Road is still incomplete? Please note that the project was launched more than a decade ago!
LDA City, too, is in hot water. It is currently being dealt with by the National Accountability Bureau. The project was promulgated as the biggest residential project, spanning more than 60,000 kanals, but has shown no traces of development so far.
I am neither favouring Bahria Town nor the LDA – I am simply putting both sides of the argument on the table. With that, I am leaving this discussion open for you to comment on. Please use the comments section below to share your views on the topic.
Related News