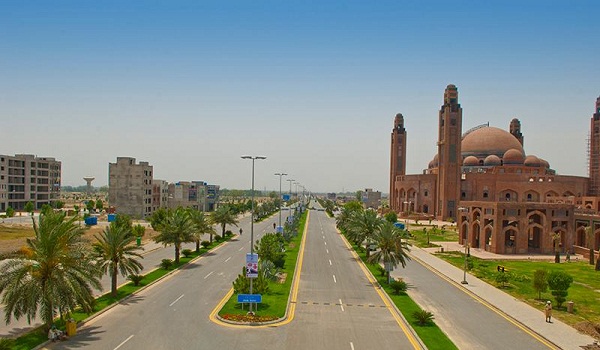 Bahria Town Lahore is one of the city's most popular and modern housing societies, but the initiation of work on the southern loop of Lahore Ring Road (LRR) has created a bit of restlessness among the landowners and property investors in this unique suburban locality, since it is expected that LRR will cut through it. These people are keen to know the benefits and/or disadvantages of LRR passing through Bahria Town, so let's discuss them here.
Advantages
What is the main reason why many people don't like the idea of living or investing in Bahria Town Lahore? It is, of course, the project's distance from the city's central locations. Bahria Town Lahore is located 15 kilometres from Thokar Niaz Baig and this is the main reason why many people do not consider it the ideal place to live or invest in.
With LRR passing through Bahria Town, the distance issue will be resolved. Via LRR, the residents of Bahria Town will have all major locations of the city within easy reach. As and when the southern loop of LLR is completed, Allama Iqbal International Airport and DHA Lahore will be just 15 and 10 minutes away from Bahia Town respectively, while other major areas such as Ferozepur Road, Mall Road and Gulberg will also become more approachable from the society.
Disadvantages
Per the information I have come across, LRR's route through Bahria Town will bring it close to the Grand Jamia Masjid of Sector C. If this route is finalised, Iqbal Block, Rafi Block, Jinnah Block (a small area only), E Block and Overseas Block Extension in Bahria Town Lahore will be directly affected.
Property possession in all of the above-mentioned blocks is available and many landowners have already started construction. Along with residential plots, some commercial plots in Sector E will also see the negative effects of LRR. The plots that might fall within LRR's proposed route and right of way are located on both sides of the circular highway in E Block, and to the best of my knowledge they are plots number 01 to 24, 59 to 106, 149 to 172 on one side and plots number 01 to 16 and 47 to 81 on the other side. However, please let me point out that this is unconfirmed, and only the Bahria Town management can tell you with certainty exactly which properties will fall under LRR's final route.
The owners of these plots are likely to be troubled if their properties are taken up by LRR, because one of two things will happen: Bahria Town's management will offer them compensation, or the government will pay them per the market rate.
The Deputy Commissioner (DC) rate of these plots is PKR 200,000 per marla. According to some unofficial news sources, the CEO of Bahria Town has announced that Bahria Town will pay the market rates of these properties to owners or adjust their properties in other blocks. Sadly though, the market rates of these plots are dropping, for obvious reasons.
I have also heard that the Bahria Town management is not willing to allow an overhead bridge for LRR since it would compromise the peace and security that Bahria Town is known for. In the absence of an LRR overhead bridge in Sector E, it would become very difficult for people to move between Sectors E and F, since LRR necessarily has to be signal-free. Because of mobility and accessibility issues, investment in these blocks will also decrease, which will cause their value to depreciate further.
Conclusion
In my opinion, the disadvantages of LRR for Bahria Town far outweigh any positives, but the Bahria Town management seems to be busy tending to other matters. Mr Malik Riaz needs to understand that the investors who trust his vision and strength to handle such issues are waiting for him to do something to protect people's life savings.
Disclaimer: The views and opinions expressed in this article are the author's own and do not necessarily reflect those of Zameen.com. 
Related News