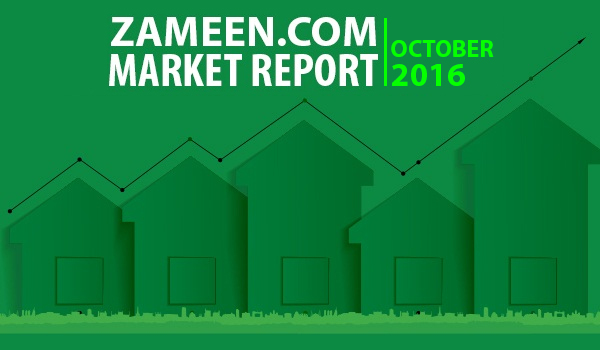 After a dismally slow Q3 2016, the real estate sector failed to do any better in October 2016. The property markets of Lahore, Islamabad, Karachi and Gujranwala – the latest addition to the Zameen.com Market Report – continued to languish with less-than-impressive numbers amid tax-related ambiguities and a general sentiment of hopelessness. Lahore's real estate market saw no real activity in October 2016 and was mostly steered by genuine buyers in the near-complete absence of investors. DHA Lahore's Phases VII to IX registered moderate drops in the asking prices of properties, while in Bahria Orchard prices dipped sharply.
Bahria Town proper and LDA Avenue I were certainly no exception. However, 1-kanal and 10-marla plots in DHA Lahore's Phases I to VI – which usually attract genuine end users – remained stable.
The property sector of Islamabad performed slightly better than the realty market of Lahore. Asking prices remained somewhat stable in Bahria Town, Sector E-11, and Sector B-17, while in DHA Islamabad, moderate drops were seen in the values of 1-kanal and 10-marla plots. On the other hand, jarring drops were seen in property values in Gulberg Residencia.
In Karachi's realty scene, things took a turn for the worse, as no major locality in the city by the sea showed promising numbers. Property prices in DHA Karachi, DHA City Karachi (DCK) and Gulshan-e-Iqbal registered moderate drops, while in Bahria Town Karachi, prices remained stable compared with September 2016 numbers.
In the case of Gujranwala, Citi Housing and DC Colony remained at a standstill in terms of sale-purchase activity.
As a result, the prices of properties in these localities dropped over the course of October 2016. However, DHA Gujranwala and Master City registered small price rises.
LAHORE
Amid stalled investment activity, the real estate market of Lahore remained on the rocks in October 2016. All investor-focused localities registered dismal numbers. DHA Lahore's Phase VII to IX, usually hotbeds of investment activity, did not see much activity during the month. As a result, prices of 1-kanal and 10-marla plots in these phases dropped 1.72% and 1.56% respectively.
Bahria Town registered a moderate drop of 3.07% for 10-marla plots, while the same-sized plots in Bahria Orchard lost 7.99% in average value. Things took a turn for the worse in LDA Avenue I as well and prices of 1-kanal and 10-marla plots in the locality dropped 4.39% and 4.27%.
ISLAMABAD
As mentioned in the Overview, the property market of the federal capital performed marginally better than the realty markets of Lahore and Karachi.
However, this unfortunately does not mean Islamabad's realty sector performed exceptionally in October 2016 by any stretch of the imagination.
Stability was the order of the day for Sector F-11, Bahria Town and Sector E-11, while in DHA Islamabad, prices of 1-kanal and 10-marla plots dropped 2.37% and 1.23% respectively. Gulberg Residencia had registered a moderate rise in the value of smaller plots in Q3 2016, but October 2016 left the same locality gasping for air, as the prices of 1-kanal and 10-marla plots dipped 6.19% and 6.94% in that order.
Generally, the market remained at a standstill with no impressive investment activity during the month.
KARACHI
Karachi's realty market continued to feel the heat of increased taxes in October 2016, as prices of 500-square yard plots in DHA Karachi and DCK dropped 1.10% and 1.42% respectively.
Surprisingly, Bahria Town Karachi (BTK) clung on to stability during the month, despite the fact that the locality is facing controversies regarding alleged illegal allotment of government land.
Property prices in Gulshan-e-Iqbal usually remain stable or rise gradually with activity largely steered by genuine buyers and sellers. However, in October 2016, the same locality registered drops of 1.88% and 1.36% for 500-square yard and 250-square yard plots in that order.
GUJRANWALA
Gujranwala outshines many other cities by offering a host of investment options in its property sector. But sale-purchase activity also dropped in the city after the implementation of the new tax regime. Only a couple of localities could manage to show rising trends amid all this ambiguity.
According to Zameen.com's stats, prices of 1-kanal plot files in DHA Gujranwala increased 2.59% in
October 2016. This is despite the fact that DHA Gujranwala is not seeing much investment activity in the current market scenario. Master City also registered an increase of 1.49% in the average price of 1-kanal plots. Property prices in this locality have always increased gradually backed largely by an impressive pace of development.
Citi Housing and DC Colony, on the other hand, were slow performers and recorded moderate drops in the value of 1-kanal and 10-marla plots.
FINAL ANALYSIS
The real estate sector of Pakistan has been on the rocks since the implementation of a new tax regime at the start of Fiscal Year 2016-17, which resulted in capital flight from the country and pushed investors to consider other avenues of investment.
However, following months of protests and discussions with industry stakeholders, the authorities concerned recently introduced a new amnesty scheme for the property sector under which a 3% tax is now applicable on 'the amount which cannot be reconciled in the wealth statement'.
It now remains to be seen what sort of impact this will have on the uncertainty that has been prevalent in the market for the last 5 months – uncertainty that has reportedly seen more than 500 agents close down their offices nationwide because of loss of business.
"Hundreds of thousands of people are dependent on the real estate sector of Pakistan to earn their livelihoods and the changes in the property tax mechanism had left them hanging," said Zameen.com CEO Zeeshan Ali Khan. "We conducted a sentiment survey of 1,500 real estate agencies recently to determine the impact of these taxes on their business, and a whopping 82% of respondents said the market situation was worse than before the taxes were implemented. Seventy percent of respondents also said the number of buyers in the market had been reduced to one-fourth after the taxes – and these are extremely worrying stats," he added.
"Going forward, we will be keeping a close eye on the effects of this new amnesty scheme once it is fully implemented. I would recommend all stakeholders do the same," said Khan.
Related News