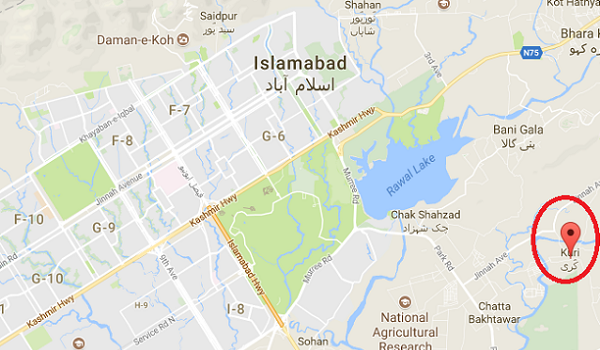 Conceived back in the mid-60s, Kuri Model Village is still awaiting the initiation of development work. The plan for this project was floated soon after the federal capital was established in this region, while the first award for land acquisition was announced back in 1966 according to a news source. There has been no development work here in fifty years, to date.
We have prepared this exclusive piece to brief you about the Kuri Model Village, and the reasons that caused delays in its development.
Project details
The project is planned to span over 3,200 acres of land in Kuri Village and the neighbouring mouza Mojahan and Rehala, all of which are located in Islamabad's Zone IV. The planned site for the village is surrounded by many important and grand housing schemes such as Bahria Enclave, Park Enclave I and II, Park View City and Pakistan Housing Authority's apartment project. The model village features residential plots of 30 x 70 feet (approximately 9 marlas) in size.
The Kuri Model Village is essentially a project of the Capital Development Authority (CDA), which is to develop it like its other sectors in Islamabad.  Considering the fact that the project is more than four times the size of a regular CDA sector, according to a news source, the project has planned provision of housing units to thousands of people, out of which 3,422 plots will be allotted to the people who have been displaced when the CDA acquired land for the project.
The delays
When the latest award for land acquisition was announced back in 2010, the CDA issued allotment letters to the affected people. It was later revealed that the list of affected people include some fake entries. The matter was later probed by the Federal Investigation Agency (FIA), which completed its investigation in 2013 and shared a report with the CDA.
According to news sources, the FIA found out that out of 7,096 claimants, 3,674 were fake. The agency pointed out double entries, and that the claimants had submitted incomplete and sometimes counterfeit documents. The list of genuine and fake claimants was also shared with the CDA. On this list, the CDA expressed reservations, stating that some genuine claimants were also included in the list of fake claimants FIA issued, further stating that it will verify the list the FIA gave them.
Meanwhile, during investigation, CDA placed a complete ban on transfer of plot files in Kuri Model Village, which is one of the main reasons why property rates here remained stagnant, VIP Enterprises' Sohail Akhtar told us.
Current status
According to a news report shared earlier in August this year, Islamabad Mayor said that work has been initiated in Kuri Model Village because the CDA is looking to relocate affectees of the Park Enclave project there. But from Akhtar, we have learnt that development work here is yet to begin because of the stay order issued by the Islamabad High Court some months ago. This stay order, as per the information Akhtar gave us, has been issued on request of some of the affectees, who claimed to be original owners of the land they handed over to the CDA in previous awards. Due to this, the ban on plot file transfer in Kuri Model Village is still intact.
A look at rates
Some months ago, the CDA allotted plot numbers to file owners who had been cleared by the FIA. With plot numbers allotted, these 9-marla files became plots, which is why their market value is different than that of files, said Akhtar. He told us that value of 9-marla files in Kuri Model Village is PKR 1.6 million while that of 9-marla plots is PKR 4,000,000.
To get plot numbers allotted to these files, file owners are required to visit the CDA office, find out if there is a house built on the plot they own (according to the file), pay the demolition fee and development charges, after which the civic authority allots plot number to the file. Once the plot number is allotted, its market value changes.
Conclusion
With property transfer banned in Kuri Model Village, interested buyers have no choice but to wait for the ban to be lifted. Akhtar believes that the project has great potential because property rates in similar model villages have climbed a PKR 10 million threshold already, and as soon as the ban is lifted here, market demand for these files will also shoot.
According to a news report, with CDA looking keen to do so, we should be able to get some good news soon. Meanwhile, if you own a Kuri Model Village file, Akhtar suggests that you get a plot number allotted against it as soon as possible.
If you wish to consult with VIP Enterprises' Sohail Akhtar, you can reach him at +92-345-855-5504.
If you have any feedback on this article, feel free to share your views in the comments section below.
Meanwhile, you can also have a look at Zameen Forum thread for Kuri Modell Village or start a new discussion.
Related News
All real estate markets in Dubai are continuing to experience price falls but the rate …